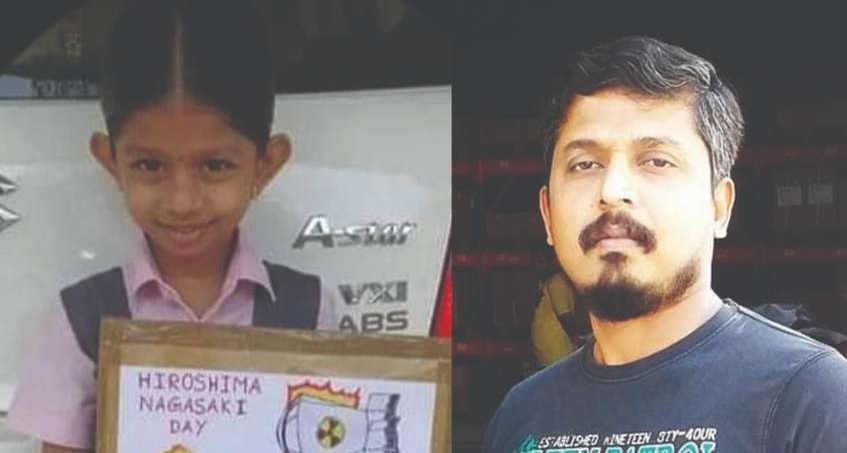 Alappuzha: A man hacked his six-year-old daughter to death in Punnamoodu near Mavelikkara in Kerala's Alappuzha on Wednesday evening. The accused Mahesh (38) murdered his daughter Nakshatra with an axe. He is currently in police custody.
The incident happened around 7.30 pm. As per reports, Mahesh's mother Sunanda (62), who lives next door with her daughter, rushed to her son's house on hearing a commotion. There she found a severely wounded Nakshatra lying on the sofa after being attacked. He also attacked Sunandha and she suffered injuries to her hand. The officials revealed the child's mother had died by suicide sometime back.
Sunanda, who immediately ran out of the house screaming for help, was chased and attacked by Mahesh. As per reports, she sustained a wound on her hand and has been admitted to the Mavelikkara District Hospital. Mahesh threatened and even attempted to attack his neighbours, who had gathered in front of his house after hearing all the noise, with the axe.
Nakshatra's mother Vidya died by suicide three years ago. Mahesh, who was abroad, returned to Kerala after his father Mukundan died in a train accident. According to his neighbours, Mahesh was going to remarry. However, the girl's family withdrew from the alliance after learning about Mahesh's personality disorder. The exact cause for the man's actions is not yet known and will be ascertained during the investigation.