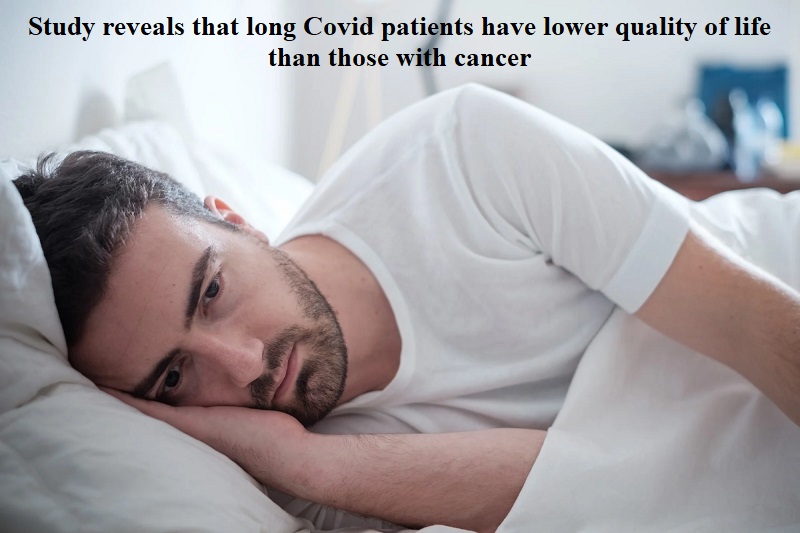 A recent study has revealed that individuals suffering from long Covid experience a lower quality of life compared to those with advanced stage cancer, highlighting the long-term effects of the coronavirus.
Among post-Covid patients, fatigue was identified as the most common symptom and had the greatest impact on their daily lives.
Researchers from University College London (UCL) and the University of Exeter found that many of these patients were severely ill and had fatigue levels worse than or similar to individuals with cancer-related anemia or severe kidney disease.
The study also noted that their health-related quality of life scores were lower than those of individuals with advanced metastatic cancers, such as stage 4 lung cancer.
Overall, the impact of long Covid on the daily lives of patients was found to be more severe than that of stroke patients and individuals with Parkinson's disease.
Professor William Henley, co-author of the study from Exeter University medical school, emphasized that long Covid is an invisible condition, leaving many individuals struggling to cope with significant changes in their daily functioning. He expressed concern that long Covid can result in worse fatigue and a lower quality of life compared to certain cancers, yet the support and understanding for this condition are not at the same level. Henley stressed the need for further research to develop evidence-based services that can assist individuals in managing this debilitating condition.
According to the World Health Organization (WHO), long Covid, also known as post-Covid-19 condition, can affect anyone who has been exposed to the SARS-CoV-2 virus, regardless of age or the severity of their initial symptoms.
Long Covid is characterized by the development of new symptoms three months after the initial infection, with these symptoms lasting for at least two months without any other explanation.
While fatigue, shortness of breath, and cognitive dysfunction are common symptoms of long Covid, over 200 different symptoms have been reported that can impact everyday functioning.
The study, funded by the National Institute for Health and Care Research (NIHR), analyzed data from over 3,750 patients referred to a long Covid clinic after experiencing symptoms for at least 12 weeks following their infection. The findings were published in the BMJ Open journal.