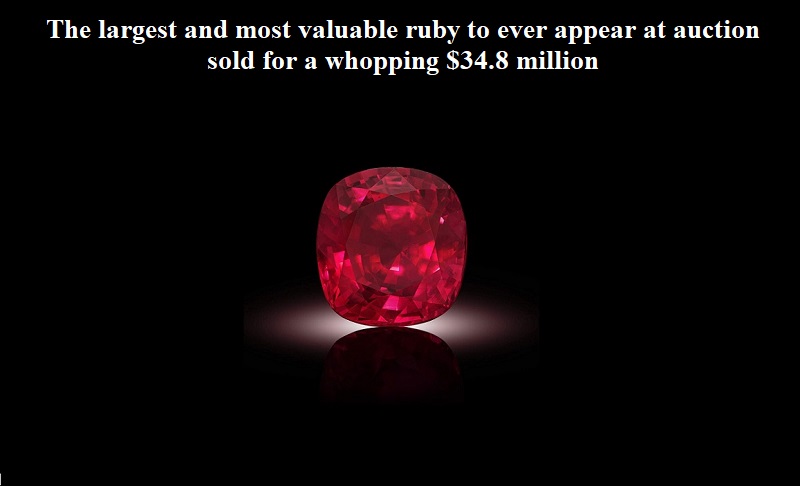 The largest and most valuable ruby ever seen at auction, called "Estrela de FURA 55.22," was sold for an astonishing $34.8 million, setting a new record at Sotheby's New York on June 8. The name "Estrela de FURA 55.22" translates to "Star of FURA" in Portuguese.
Initially offered with a starting price of $21 million, the remarkable gemstone was eventually sold for $30 million, plus fees and commissions, to an anonymous buyer who participated via telephone.
This stunning ruby was cut from a rough stone weighing 101 carats, which was discovered in July of the previous year at the Montepeuz ruby mine in Mozambique. The mine is operated by Fura Gems, a company that began its operations in Mozambique in 2017 and currently holds nine ruby mining licenses in the country. Sotheby's official website provided information about FURA Gems, highlighting its status as the fastest-growing colored gemstone mining company globally, with a focus on sustainability and corporate social responsibility. The company also operates emerald and sapphire mines in Colombia and Australia.
The Estrela de FURA made its debut in Dubai in September 2022, capturing worldwide attention as the largest gem-quality ruby ever discovered. Uni Kim, a jewelry specialist at Sotheby's Hong Kong, described it as one of the biggest and most impressive gem-quality rubies ever seen. Its origin in Mozambique, aside from the more traditional Burmese rubies, added to its appeal.
The previous record for a ruby sold at auction was set in May 2015 with the sale of the "Sunrise Ruby," a Burmese stone weighing 25.59 carats, which fetched $30.3 million at Sotheby's in Geneva.
Additionally, Sotheby's sold "The Eternal Pink," a rare 10.57-carat diamond from Botswana, for the same price of $34.8 million. This sale set a record per carat value of $3.29 million for a diamond of its color. The highest price ever paid for a pink diamond remains the $71.2 million for the 59.60-carat "Pink Star" in Hong Kong in 2017.