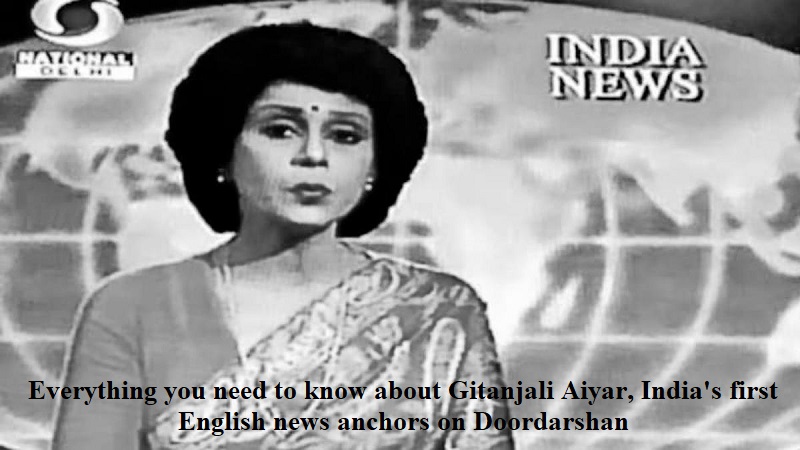 India mourns the loss of Gitanjali Aiyar, a prominent news presenter, who passed away on Wednesday. Aiyar was one of the first female English news presenters on the national broadcaster Doordarshan. She was 71 years old and had been battling Parkinson's disease. Sources close to the family revealed that she collapsed after returning home from a walk.
Aiyar began her career at Doordarshan in 1971 and received the Best Anchor Award four times. Her contributions were recognized by several political leaders and renowned media personalities, who took to Twitter to express their condolences and pay tribute to her remarkable work.
Union Minister of Information and Broadcasting, Anurag Thakur, also expressed his sorrow on Twitter. He described Aiyar as a trailblazer and pioneer in the industry, highlighting her credibility, professionalism, and distinctive voice that she brought to every news presentation.
Here are ten key facts about Gitanjali Aiyar:
Gitanjali Aiyar graduated from Kolkata's Loreto College and pursued a diploma degree from the prestigious National School of Drama (NSD) in Delhi. She later joined All India Radio (AIR) and hosted a popular show called 'A Date With You,' where she fulfilled English song requests on Friday nights.
Aiyar gained prominence in 1971 when she joined Doordarshan as a prime-time news anchor.
Her exceptional work led to her receiving the Best Anchor Award four times, along with the Indira Gandhi
Priyadarshini Award for Outstanding Women in 1989.
Aiyar was influenced by radio newsreaders Surojit Sen and Pamela Singh during her upbringing, as reported by The Indian Express.
In an interview with Scroll, Aiyar shared touching anecdotes about the impact she had on people's lives, such as someone seeking her assistance in bringing electricity to their community and an auto driver refusing to accept payment for giving her a ride to her son's school.
She departed from Doordarshan in August 2002 after a successful career as a news presenter.
Apart from her news programs, Aiyar also dabbled in acting, appearing in Sridhar Kshrisagar's TV drama 'Khandaan' and featuring in various print advertisements.
Aiyar held the position of Head of Major Donors at the World Wide Fund in India.
She is survived by her two children, daughter Pallavi and son Shekhar.
The passing of Gitanjali Aiyar leaves a void in the Indian media industry, but her contributions as a pioneering news presenter and her impact on the nation's television landscape will always be remembered.