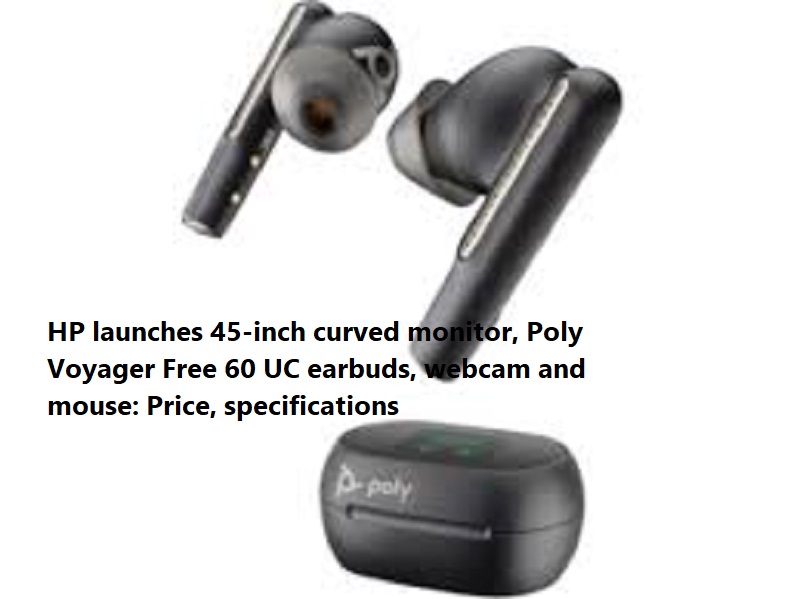 Mumbai: HP launched a series of products and accessories including a 45-inch curved monitor, Poly Voyager Free 60 UC earbuds, a 960 4K webcam, a 925 Ergonomic vertical mouse, and a Thunderbolt G4 dock. The newly launched HP Poly Voyager Free 60 UC earbuds are priced at Rs. 41,999. They are available in two colours — Carbon Black and White Sand.
The HP E45c 45′ curved monitor price in India is set at Rs. 1,26,631. Other accessories including a 960 4K webcam, a 925 Ergonomic vertical mouse, and a Thunderbolt G4 dock cost Rs. 18,999, Rs. 8,999, and Rs. 19,500, respectively.
HP Poly Voyager Free 60 earbuds specifications: The new earbuds are equipped with a three-mic array for voice triangulation and to reduce the background noise during calls. They also feature Active Noise Cancellation (ANC) feature. The earbuds come with three conical-shaped ear tips of different sizes. The earbuds are claimed to offer up to 24 hours of playback time and up to 16.5 hours of talk time.
Also Read: Thiruvavaduthurai Adheenam reacts to fake news, files complaint 
HP E45c 45-inch curved monitor specifications: The HP 45-inch curved monitor has a 45-inch diagonal, dual QHD 1500R curved display with a refresh rate of 165Hz. The dual display lets users connect to two different computers simultaneously. The monitor is equipped with dual side-firing speakers and has multiple connectivity options.
HP 960 4K Streaming Webcam specifications: The HP 960 4K AI-enhanced Streaming Webcam offers up to 4k resolution. It also allows users to change backgrounds and keeps auto-framing during live streams. The webcam has an 18mm F2.0 large lens, and dual microphones.
HP Thunderbolt G4 Dock specifications: The HP Thunderbolt G4 Dock comes with the ability to add up to three displays to the notebook by using a single cable. The dock also supports USB type-C-enabled non-HP notebooks. It can power notebooks up to 100W.