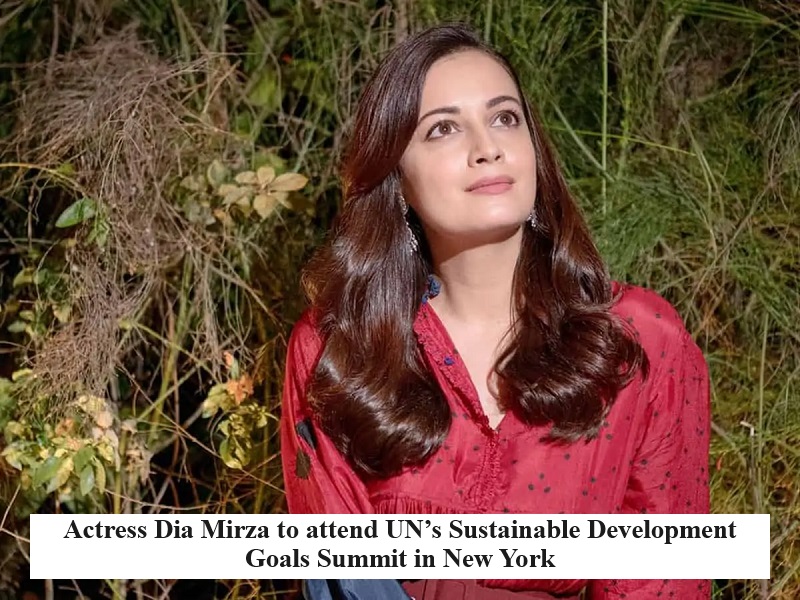 Dia Mirza, a well-known actress and the UN Secretary-General's Advocate for Sustainable Development Goals (SDGs), is en route to New York to participate in the United Nations General Assembly (UNGA) and the SDG Summit. She will join global policymakers and leaders at the event.
Dia has a long-standing association with the United Nations. As a UN Goodwill Ambassador, she has previously highlighted India's LiFE Campaign, which focuses on placing individual behaviors at the forefront of the global climate action narrative, along with India's other key commitments to achieving the Sustainable Development Goals.
Before departing for New York, Dia expressed, "I carry with me this time the reaffirming G20 message of 'One Earth, One Family, and One Future,' which holds global significance as it underscores the importance of living in harmony with the ecosystem and taking concrete actions to address global challenges."
The recent G20 Summit held in India played a crucial role in advancing the key SDG commitments made by the Global South, particularly India. The UN agenda at the UNGA will continue discussions on issues such as climate change, biodiversity loss, pollution, drought, land degradation, and the impact of the pandemic and geopolitical issues on SDG progress.
Dia emphasized, "The UN has always emphasized synergistic cooperation for global solutions. Collective responsibility is a common thread running through UNGA's humanitarian and environmental agendas, and this time will be no different. I am eager to see the new strategies that will be formulated to advance gender rights, social and economic equality, and SDG goals."
She also aims to spotlight positive initiatives from India and stressed the need for significant policy changes in addition to individual efforts to combat climate change, as environmental disruptions disproportionately affect vulnerable groups, including women and children.
In conclusion, Dia stated, "As I depart for New York, I carry with me inspiring stories of Indian change-makers who are cleaning up beaches, transforming trash into beautiful products, leading reforestation projects independently, and advocating for wildlife habitats. I am proud to represent a country where numerous citizens are working toward a sustainable and inclusive future."