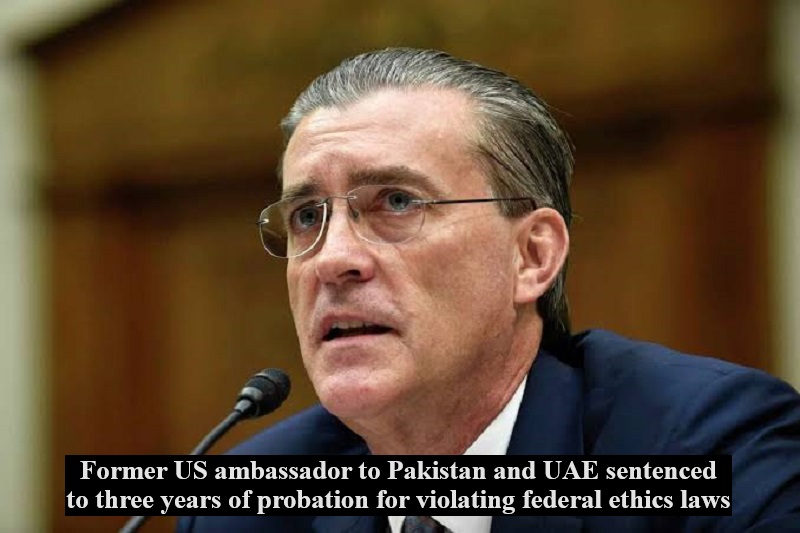 Former United States ambassador to Pakistan and the United Arab Emirates (UAE), Richard Olson, received a three-year probation sentence on Friday (September 15) for violating federal ethics laws. Additionally, he was fined $93,400 following his guilty plea on charges related to the misuse of his official position for personal benefit, according to a report by the news agency AFP.
The US Attorney's Office for Washington clarified that American law prohibits senior officials, such as Olson, from representing a foreign government before any federal agency or from providing assistance or counsel to a foreign entity with the intent of influencing the US government for a period of one year after leaving their positions.
The office further noted, "The defendant took numerous actions to conceal these illegal activities, including the deletion of incriminating emails and providing false information to the FBI during a recorded interview."
Olson, who is 61 years old, served as the US ambassador to Pakistan from 2012 to 2015. In June of the previous year, he had pleaded guilty to charges of making false statements and violating lobbying laws concerning foreign governments. The US Attorney's Office disclosed that Olson had also received favors and benefits from a Pakistani-American businessman, identified in court documents as "Person 1."
These benefits encompassed a payment of $25,000 to Olson's then-girlfriend to assist in covering her college tuition fees and $18,000 allocated for first-class travel expenses for the ambassador to attend a job interview in London.
The 61-year-old was accused of aiding the government of Qatar in influencing US policymakers. The US Attorney's Office stated, "One significant favor included the defendant's agreement to lobby members of Congress on behalf of Person 1 concerning weapon sales to Pakistan and Middle Eastern countries that Person 1 was attempting to facilitate."