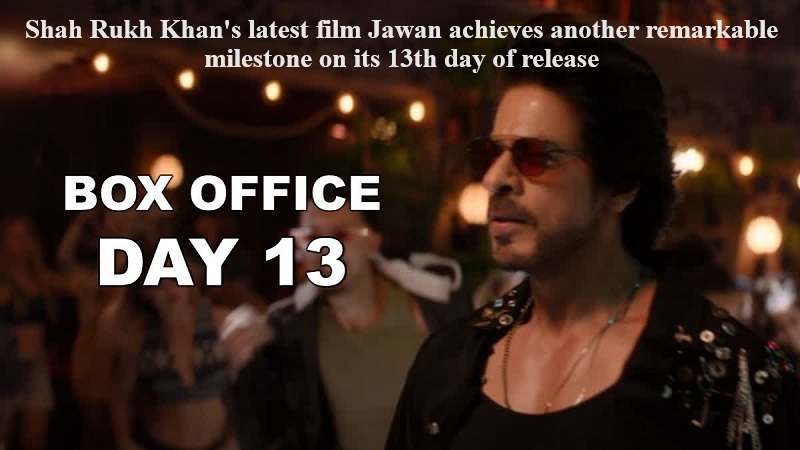 Shah Rukh Khan's most recent film, "Jawan," achieved yet another remarkable milestone on its 13th day in theaters, surpassing the Rs 500 crore ($60 million approx) gross mark at the domestic box office. Notably, Shah Rukh's previous hit, "Pathaan," took a full 18 days to reach the same milestone. The film's current gross earnings in India now stand at Rs 507 crore ($60.9 million approx), with an estimated Rs 14 crore ($16.8 million) earned on day 13, according to industry tracker Sacnilk, bringing its domestic total to Rs 458 crore ($55 million).
Shah Rukh Khan had previously become the only Bollywood actor to deliver two $100 million-grossing films in a single calendar year.
"Jawan," directed by Atlee and featuring co-stars Nayanthara and Vijay Sethupathi, has consistently shattered records since its release. The film established new benchmarks for the biggest opening day and the biggest opening week in Bollywood history. Notably, it also became the fastest Bollywood film to achieve various milestones.
"Jawan" further set a record for the highest single-day collection for a Bollywood movie, generating an impressive Rs 80 crore ($9.6 million approx) on its first Sunday.
Shomini Sen of WION gave the film a positive review, stating, "Pathaan reiterated SRK's liberal stance, and 'Jawan' brings forth the feminist side of the actor. Khan has been a vocal ally for women's empowerment for years. In 'Jawan,' sure he plays a mentor of sorts to a bunch of wronged women, but the film celebrates strong women and their might to fight it out. All the female characters are projected as strong women who can take on a goon or two on their own and yet be maternal and soft when the time arises. Nayanthara, who makes her Bollywood debut in 'Jawan,' plays a feisty cop who will not slow down even for a second due to familial emotions when duty calls."