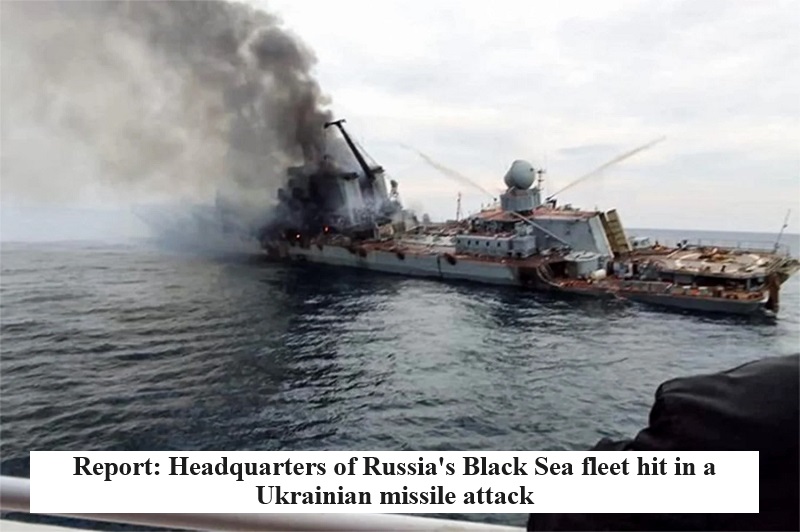 On Friday, a Russian official who has been appointed to oversee the annexed Crimea reported that the headquarters of Russia's Black Sea fleet had been struck in a missile attack by Ukraine, marking the latest assault on the peninsula by Kyiv.
Mikhail Razvozhayev, the governor of Sevastopol, the largest city on the peninsula, stated via a social media post, "The headquarters of the fleet has been hit in an enemy missile attack."
The governor of Sevastopol further issued a warning, indicating the likelihood of another Ukrainian aerial attack occurring soon. Razvozhayev urged people to exercise caution, stating, "Attention everyone! Another attack is possible. Please do not go to the city center. Do not leave buildings. Everyone who is near the headquarters of the fleet — at the sound of the siren, proceed to shelters."
Meanwhile, the Kremlin commented on the escalating tensions between Kyiv and its European allies, specifically noting a dispute between Poland and Ukraine sparked by disagreements over grain exports.
Kremlin spokesman Dmitry Peskov stated, "There are certain frictions between Warsaw and Kyiv. We predict that these frictions between Warsaw and Kyiv will increase. Friction between Kyiv and other European capitals will also grow over time. This is inevitable."
The reported missile attack on the Black Sea fleet's headquarters in Crimea reflects the ongoing conflict between Ukraine and Russia in the region, with both sides engaged in hostilities despite international efforts to achieve a peaceful resolution.