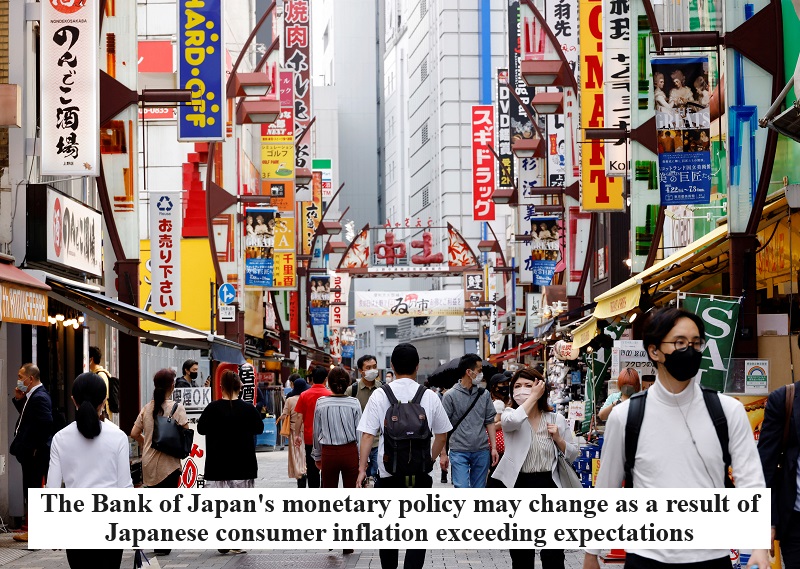 Japanese consumer inflation has outpaced expectations, potentially leading to a change in the Bank of Japan's (BOJ) monetary policy. In August, the national core consumer price index (CPI), excluding volatile fresh food prices, rose by 3.1 percent, matching the previous month's rate and surpassing the 3 percent prediction. These statistics are sourced from the Statistics Bureau and cited by the financial news website Investing.com.
When fresh food costs were factored in, national CPI inflation reached 3.2 percent in August, representing a slight decline from July's 3.3 percent increase. The monthly growth rate also decreased, dropping from 0.5 percent in July to 0.3 percent in August.
A critical core measurement, which excludes fuel and fresh food costs, remained robust in August at 4.3 percent, marking a 40-year high. Consumer spending on food and other goods continued to outweigh government subsidies for fuel and power, sustaining this inflationary trend. The BOJ closely monitors this core figure to assess Japan's underlying inflation, which has been steadily rising this year despite an overall inflation decrease.
The prolonged failure to achieve the BOJ's 2 percent annual target for headline CPI inflation—17 months and counting—has sparked discussions about potential adjustments to the current ultra-low interest rate policy. BOJ Governor Kazuo Ueda, indicating a shift, pointed to substantial progress over seven years, as well as signs of stable wage growth and inflation. Ueda's remarks have fueled debates about discontinuing negative interest rates, although the bank is expected to maintain its neutral stance.
Rising inflation and other economic challenges have placed Prime Minister Fumio Kishida under political pressure, resulting in a decline in his popularity since taking office in October 2021. In response to price hikes, Kishida pledged a "drastic" economic package while retaining key economic team members.
The yen's decline against the dollar, now trading at 10-month lows due to disparities in local and American interest rates, has contributed to Japan's inflation. Japanese consumers are paying more for imports, particularly food and energy, as a result of the yen's depreciation.
Analysts anticipate that the BOJ will maintain its current accommodative monetary policy following its policy meeting. Attention is now focused on Governor Ueda's long-term objectives for the central bank. After his statement that there might be enough information available by year's end to decide on the program's continuation, several BOJ observers have adjusted their rate hike projections, with half now predicting an increase in the first half of 2024.
Tom Kenny, a senior international economist at ANZ Research, stated that the Japanese economy remains fragile in a report quoted by Moneycontrol. He suggested that current monetary policies may need to be sustained because demand might not be able to support persistent price pressures. Despite rumors, many analysts are skeptical about predicting an immediate halt to the BOJ's negative rate policy by year's end.