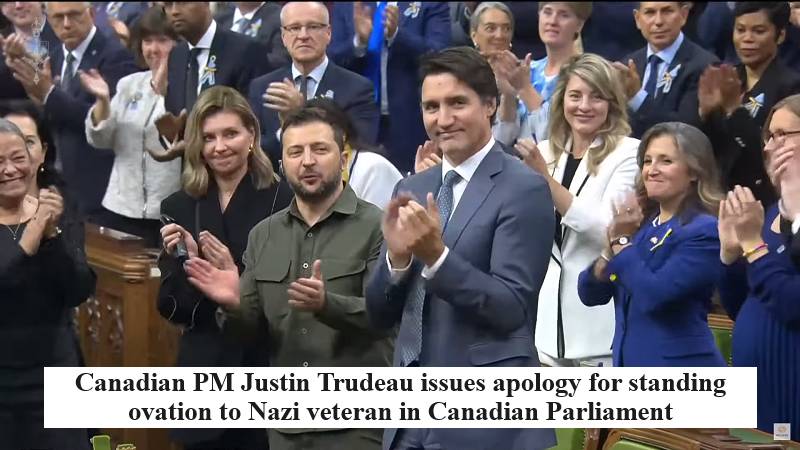 Canadian Prime Minister Justin Trudeau issued an apology on Wednesday regarding Parliament's recognition of a man associated with the Nazis during Ukraine President Volodymyr Zelensky's recent address.
Trudeau specifically held the resigned Speaker of the House of Commons accountable for extending the invitation and granting recognition to the man. He acknowledged this as a regrettable mistake that deeply embarrassed both the Canadian Parliament and the country as a whole.
Trudeau expressed his deep regret for having stood and applauded in Parliament during the recognition, even though he did so unaware of the context. He characterized it as a horrendous violation of the memory of the millions who died in the Holocaust and deeply painful for Jewish people.
Trudeau reiterated his apology in Parliament.
During Zelensky's address, Canadian lawmakers gave a standing ovation to 98-year-old Yaroslav Hunka when Speaker Anthony Rota introduced him as a war hero who fought for the First Ukrainian Division.
Subsequently, it was revealed that the First Ukrainian Division, to which Hunka belonged, was also known as the Waffen-SS Galicia Division or the SS 14th Waffen Division. This revelation sparked significant controversy as it was a voluntary unit under Nazi command.
Trudeau expressed deep concern over the incident, emphasizing that it should not be exploited for false propaganda regarding the military intervention in Ukraine by Russia or its supporters.
Moscow, led by Kremlin spokesman Dmitry Peskov, criticized the standing ovation as "outrageous" and indicative of a "sloppy attitude" towards acknowledging the Nazi regime. Peskov called for Canadian authorities to bring Hunka to justice or extradite him to those seeking to prosecute him.
Poland announced its intention to investigate Yaroslav Hunka and potentially extradite him.
In response to mounting criticism and calls for his resignation, Speaker Anthony Rota stepped down from his role. House government leader Karina Gould cited Rota's failure to inform the government or the Ukrainian delegation and his lack of due diligence as eroding trust among lawmakers.