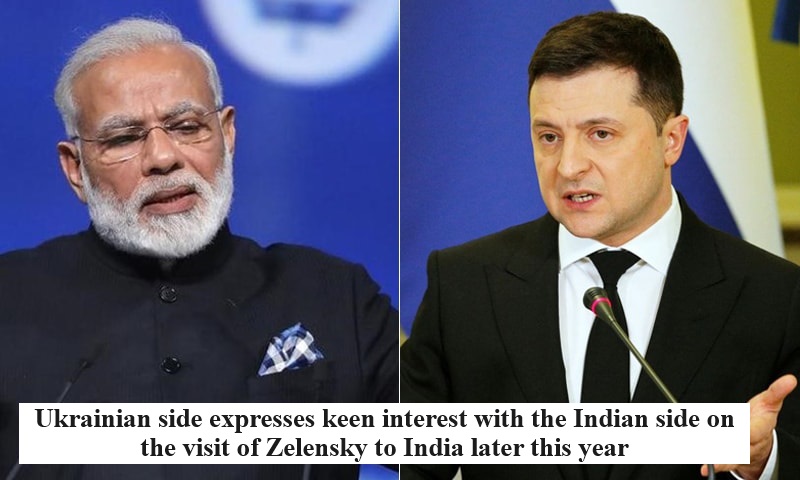 The Ukrainian side has shown a strong interest in the potential visit of Ukraine President Volodymyr Zelensky to India later this year. Initial discussions regarding this visit are currently underway. If it comes to fruition, this visit would be a significant milestone as it would mark the first visit by a Ukrainian President to India since the outbreak of the conflict in Ukraine last year.
The matter of President Zelensky's visit has been deliberated at various levels with the Indian side, including within the framework of the National Security Advisor (NSA) mechanism. Andriy Yermak, Head of the Office of the President of Ukraine, and India's National Security Advisor (NSA) Ajit Doval have engaged in discussions as part of this mechanism.
Since the commencement of the conflict last year, India has consistently advocated for dialogue and diplomacy as the primary means of resolving the Russia-Ukraine conflict. New Delhi has stressed Indian Prime Minister Narendra Modi's assertion that the current era should be characterized by peaceful means rather than war.
India has also drawn attention to the secondary consequences of the Ukraine conflict, which have led to significant increases in the prices of essential commodities such as food, fuel, and fertilizers. These price hikes have had adverse effects not only on India but also on the global community, particularly the member states of the Global South. India's role as the President of the G20 has been instrumental in highlighting the economic challenges faced by developing nations on the global platform of the G20.
It is noteworthy that Ukraine was not formally invited to participate in the proceedings of the G20 Summit, unlike Indonesia in the previous year. Nevertheless, there has been ongoing engagement between the two nations.
Earlier this year, India's Secretary (West) of the Ministry of External Affairs, Sanjay Verma, paid a visit to Kyiv, while Ukraine's first deputy Foreign Minister, Emine Dzhaparova, made a diplomatic trip to Delhi. These interactions represent the first official government-to-government visits between the two nations since the onset of the Ukraine conflict.
In a significant diplomatic engagement earlier this year, Prime Minister Narendra Modi and Ukraine President Volodymyr Zelensky held a meeting on the sidelines of the G7 summit in Hiroshima.
During their meeting, Prime Minister Modi emphasized the profound global impact of the Ukraine conflict and underscored that, for him, it transcends political and economic considerations. He described it as fundamentally an "issue of humanity and human values." He praised Ukraine's cooperation in ensuring the safe evacuation of Indian students and warmly welcomed Ukraine's decision to conduct examinations in India for these students.