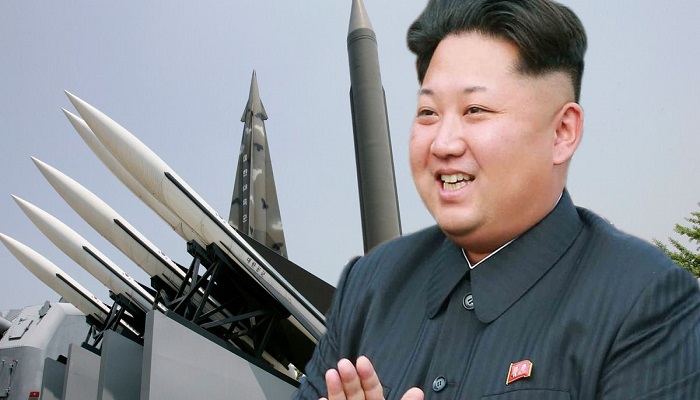 North Korea has suggested it will continue its nuclear weapons tests, saying it will bolster its nuclear force 'to the maximum' in a 'consecutive and successive way at any moment' in the face of what it calls US aggression and hysteria.
US President Donald Trump has said a 'major, major conflict' with North Korea is possible over its nuclear and ballistic missile programs, while China said last week the situation on the Korean peninsula could escalate or slip out of control.
In a show of force, the US has sent the nuclear-powered USS Carl Vinson aircraft carrier group to waters off the Korean peninsula to join drills with South Korea to counter a series of threats of destruction from North Korea, formally known as the Democratic People's Republic of Korea (DPRK).
The North has carried out five nuclear tests in the last 11 years and is widely believed to be making progress towards its dream of building a missile capable of delivering a warhead to the continental United States.
It raises the tone of its warnings every spring, when Washington and Seoul carry out joint exercises it condemns as rehearsals for invasion, but this time fears of conflict have been fuelled by a cycle of threats from both sides.
The joint drills have just ended, but naval exercises are continuing in the Sea of Japan (East Sea) with a US strike group led by the aircraft carrier US Carl Vinson.
The Pyongyang foreign ministry spokesman said if the North was not armed with "the powerful nuclear force", Washington would have "committed without hesitation the same brigandish aggression act in Korea as what it committed against other countries".
The statement reasserts the North's long-running rhetoric on its military capabilities.
Seoul also regularly warns that Pyongyang can carry out a test whenever it decides to do so.