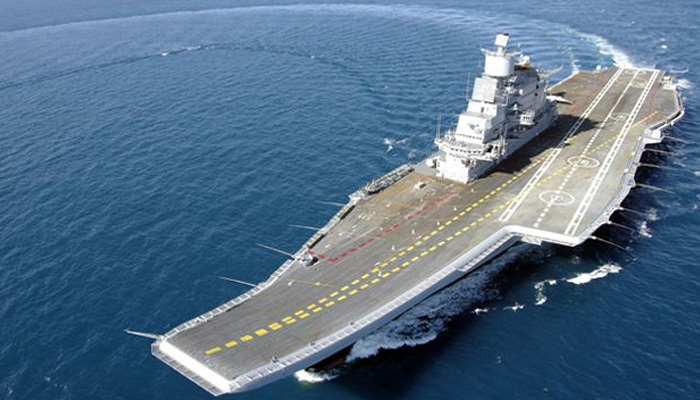 The Navy is hopeful of getting INS Vikrant, India's first indigenous aircraft carrier which is being made at the Kochi shipyard, by 2020.
"We are hopeful she will start trials in 2019 and we will take delivery in 2020," Navy chief Admiral Sunil Lanba told reporters Wednesday on the sidelines of a seminar organised by FICCI on 'Building India's Future Navy Technology Imperatives'.
The construction is going as per the timeline, he said. The Navy chief also confirmed that the country's first indigenous conventional submarine, INS Kalvari, will be commissioned in July or August. INS Kalvari is the first of six submarines being built at the Mazgaon Docks in collaboration with DCNS of France under Project 75 and has been out for sea trials since last year. INS Khanderi, the second submarine under Project 75, was launched on January 12 and will undergo rigorous tests till the end of the year.
Asked about Sri Lanka's denial to a Chinese submarine for docking at Colombo earlier this month, Admiral Lanba said, "We were not in touch with them (Sri Lanka) on the issue, they did it on their own."
INS Vikrant is the first ship of the Vikrant class of aircraft carriers. The name Vikrant (Sanskrit vikr?nta, literally "stepping beyond") means "courageous" or "bold". It is 262 metres (860 ft) long and 60 metres (200 ft) wide, and displaces about 40,000 metric tons (39,000 long tons). It features a Short Take-Off But Arrested Recovery (STOBAR) configuration with a ski-jump. The deck is designed to enable aircraft such as the MiG-29K to operate from the carrier. It is expected to carry an air group of up to thirty aircraft, which will include up to 24–26 fixed-wing combat aircraft, primarily the Mikoyan MiG-29K .