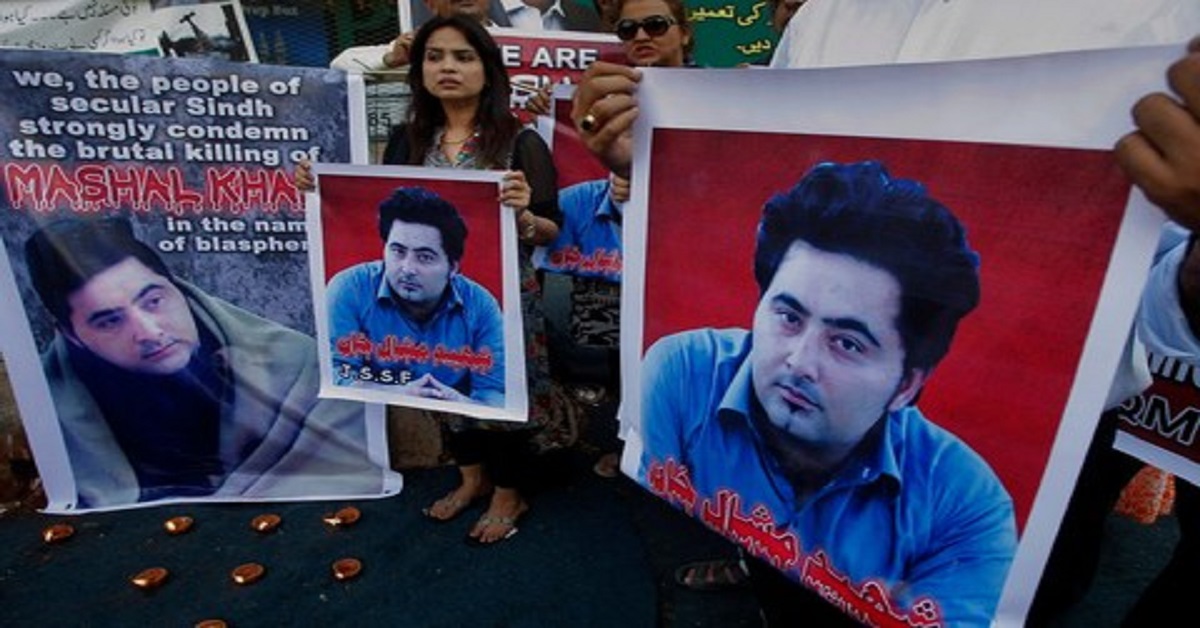 Crimes and blasphemy against one's nation or religion lead to serious punishment. But what if you have been falsely accused?
A Pakistani court on Wednesday convicted 31 people over the campus lynching of a university student who was falsely accused of blasphemy, and sentenced one of them to death, a defense lawyer said.
Last April, Mashal Khan, 23, was stripped, beaten and shot by a gang of mostly students before being thrown from the second floor of his dorm at the Abdul Wali Khan University in the northwestern city of Mardan.
The killing sparked an outcry and raised fresh questions about the misuse of a harsh blasphemy law, which carries a death sentence for insulting Islam or the Prophet Mohammad (PBUH).
READ ALSO: Asaduddin Owaissi demands law to punish those who call Indian Muslims 'Pakistani'
Barrister Ameerullah Chamkani told an international news agency one of the 31 accused had been sentenced to death, five were jailed for life and the other 25 were jailed for four years.
The court acquitted 26 others out of a total of 57 people indicted by a court late last year.
Chamkani said he was awaiting more details on the judgment.
"One of the accused has been awarded a death sentence, [five] were given life imprisonment while 26 have been acquitted," Saad Abbasi, a defense lawyer representing the accused, told an international news agency at the prison where the verdict was announced.
An additional 25 were given three-year sentences, he added.
READ ALSO: Muslim women should not be allowed to watch men with 'bare knees' playing football, says Islamic cleric
The accused were students, teachers and some officials of the Abdul Wali Khan University named after a secular political leader in northwest Pakistan.
They all pleaded not guilty.
Ahead of the verdict announcement, heavy security was deployed at the jail in the city of Haripur where the accused were detained, with the area cordoned off by around 300 regular police and elite commandos.
Khan was known as an intellectually curious and religious student who liked to debate controversial social, political and religious issues.
He was attacked and killed by a mob on the campus on April 13 after a dormitory debate about religion.
The brutality of the attack, which was recorded on mobile phone cameras and posted online, stunned the public and led to widespread condemnation — including from prominent Islamic clerics — with protests erupting in several cities.
Students who participated in the lynching were later rounded up after being identified using CCTV footage from the university and video clips.
An official report released months later concluded Khan was falsely accused, saying the murder was instigated by members of a secular student group who felt threatened by Khan's growing prominence as a critic of rising fees and alleged corruption at the university.
Blasphemy is an enormously sensitive charge in Pakistan and a criminal offense that can carry the death penalty.
READ ALSO: Dubai youth charged huge amount for blasphemy
While the state has never executed anyone under blasphemy laws, mere allegations have prompted mob lynchings and lesser violence.
Since 1990, vigilantes have been accused of murdering 65 people tied to blasphemy, according to research compiled by the Centre for Research and Security Studies think tank.
Blasphemy is a highly sensitive issue in Pakistan, where insulting Islam's prophet is punishable by death and blasphemy accusations stir outrage.
Even a rumor of blasphemy can spark mob violence and there have been cases of people spreading false accusations of blasphemy against enemies.
In 2011, a bodyguard assassinated Punjab provincial governor Salman Taseer after he called for the blasphemy laws to be reformed.
Taseer's killer, executed last year, has been hailed as a martyr by religious hardliners.