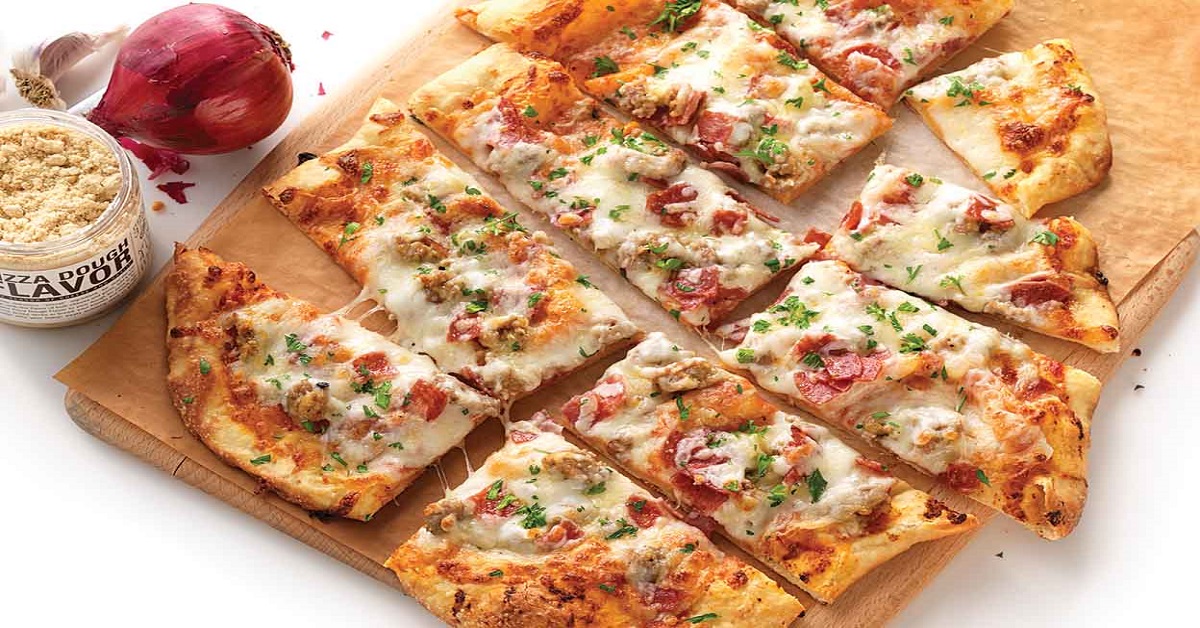 What the difference you ask? Not much! And pizza is life!
But the thing is flatbreads are far quicker to rustle up – especially for a quick weeknight supper when you want dinner on the table pronto.
So let's get on with the recipe.
American All-dressed

Prep time: 5 mins
Bake time: 5 mins
Serves: 2
Ingredients
1 pizza dough ball (220 gm)
70 gm tomato sauce
100 gm shredded mozzarella
60 gm beef salami
50 gm grilled red pepper, julienne
50 gm grilled green pepper, julienne
Pinch of fresh oregano
10 ml extra virgin olive oil, to spread on edges
READ ALSO: Vegan chocolate dish to delight your senses
Method
Set the oven temperature to 350°C.
Spread some flour on a clean surface and apply some more to the pizza dough ball. Use your fingertips to knead and flatten the dough. Keep the dough on the surface and roll, by hand or with a rolling pin, until 12 inches in size. (For a rectangular shape, just pull both sides till you achieve the desired form.)
Apply tomato sauce on the freshly flattened dough, leaving approximately 1 cm space along the edges.
Sprinkle half of the shredded mozzarella over the tomato sauce and add beef salami and grilled peppers on top. Sprinkle the remaining mozzarella cheese on top. 
Using a pizza spatula, drop the ready-to-bake flatbread into the oven, and bake for 3-4 minutes until crispy. (Alternatively, you could bake at 270°C for 7-9 minutes.)
Once the flatbread has been baked, remove from the oven and sprinkle freshly chopped oregano. Spray the edges with extra virgin olive oil and serve.