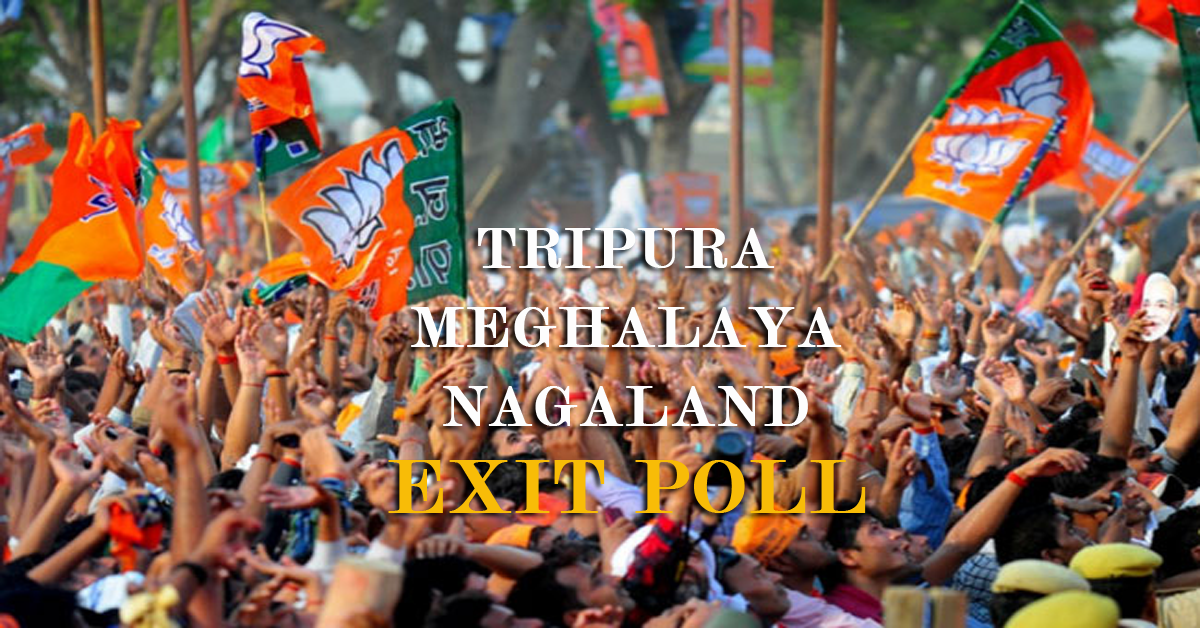 Exit polls for the election in Tripura, Meghalaya, and Nagaland published. All survey agencies predict a big victory for BJP in three states.
In Tripura, which has been the Red bastion for the past 25 years, BJP may form its maiden government along with the IPFT, predicted NewsX exit poll. It said the BJP-IPFT combine will get anywhere between 35-45 seats, while the CPI(M) tally will come down from 50 to 14-23. Axis MyIndia, however, gave a larger share of the pie to the saffron party and estimated it to win 45-50 seats, while it gave the Left 9-10 seats.
Also Read: Tripura Elections Exit Polls: Predicts huge victory for BJP
Here is what the exit poll says
Tripura
Axis MyIndia and News24:  BJP+IPFT: 45-50, Left Front: 9-10
Newsx:  BJP+: 35-45, Left Front: 14-23, Congress: 0
CVoter:  CPM: 26-34 BJP+: 24-32 Congress: 0-2
Nagaland
CVoter:  NDPP-BJP: 25-31 NPF: 19-25 Congress: 0-4 Others: 6-10
Newsx: BJP+: 27-32; Congress: 0-2, NPF: 20-25
Meghalaya
Axis MyIndia and News24: BJP: 30, Congress: 20, PDF: 3, NCP: 2, Others: 4
Newsx: BJP: 8-12, Congress: 13-17; NPP: 23-27
CVoter:  NPP: 17-23 Congress: 13-19 UDP-HSPDP: 8-12 BJP: 4-8 Others: 5-9
In Tripura, 89.8% electors cast their votes, down from 91.82% in the 2013 assembly elections. While Meghalaya recorded 68 percent voting till 4 pm, Nagaland saw 75 per cent turnout till 5 pm.