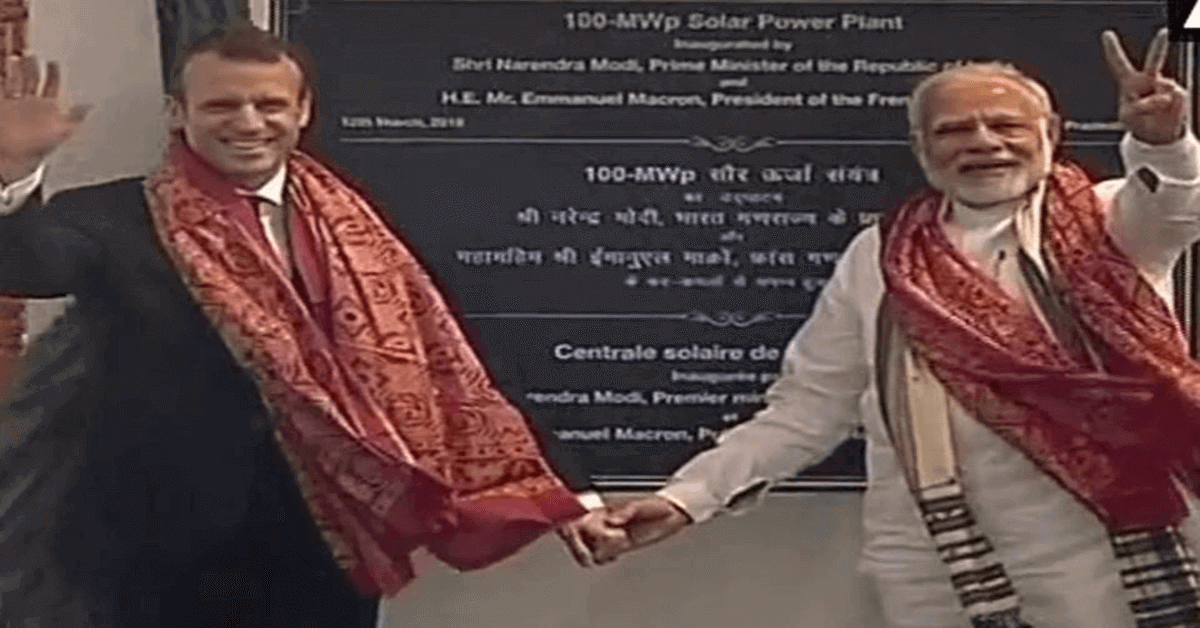 Today Pm Narendra Modi and his French counterpart Emmanuel Macron had inaugurated Uttar Pradesh's biggest solar power plant in Mirzapur district's Chhanvey block. 
But Modiji's talks of solar plants and energy have been going on for some time now.
Prime Minister Narendra Modi on Sunday called for concessional and less-risky finances for raising the share of solar electricity in the energy mix and pledged to generate 175 gigawatts (GW) of electricity in India from renewable energy sources by 2022.
Speaking at the founding conference of the International Solar Alliance (ISA), Modi presented a 10-point action plan that includes making affordable solar technology available to all nations, raising the share of electricity generated from photovoltaic cells in the energy mix, framing regulations and standards, consultancy support for bankable solar projects and creating a network of centres for excellence.
READ ALSO: All you need to know about India-France's International Solar Summit
Here are the 10 points on which he emphasized.
"We all have to think about the road ahead and I have a 10-point action plan that I would like to share with you.
"First of all, we should ensure cheap and easy availability of solar technology. The solar ratio in the energy mix should be increased and innovation should be encouraged so that solutions for our various needs can be provided," he said.
The Prime Minister called for concessional financing at lower risk for solar projects. He said regulatory aspects and standards should be developed to find solutions fast.
"Consultancy support should be developed for bankable solar projects in developing nations.
"We should work for increased participation and inclusiveness. We should build a comprehensive network of centers of excellence keeping local circumstances and factors in mind. We should look at our solar energy policy development in totality so that this can play a role in meeting the SDGs (Sustainable Development Goals of the UN)."
Modi also called for a strong and professional ISA Secretariat located in Gurugram.
Launched by Modi and then French President Francois Hollande in 2015, the ISA was conceived as a coalition of solar resource-rich countries to address their special energy needs and provide a platform to collaborate on dealing with the identified gaps through a common, agreed approach.
It is open to all 121 prospective member countries falling between the Tropics of Cancer and Capricorn.
READ ALSO: China donates 32,000 solar systems to Nepal
"Of the 121 prospective nations, 61 have joined the alliance, 32 have also ratified the framework agreement. But in this alliance our biggest partner is the sun god which spreads light outside and gives strength to our resolve," Modi said.
He, along with French President Emmanuel Macron, who is on a four-day visit to India, co-chaired Sunday's conference.
"Even before life first opened its eyes on earth, for ages the sun has been enlightening and enriching people. From Japan to Peru, be it Greece or Rome, Egypt, Incas and the ancient Mayan culture, every civilization has glorified and given importance to the sun.
 "However, in India, from thousands of years ago, the central place that has been given to the sun is unparalleled. From thousands of years ago, the Vedas in India have seen the sun as the soul of the world.
"In India, the sun has always been seen as the nurturer of life. Today, when we are trying to find paths to fight challenges like climate change, we have to look at this ancient idea."
Stating that a green future will depend on "what we can all do together", Modi said in India work had started on the world's largest new energy initiative.
"By 2022, we will generate 175 GW of renewable energy of which 100 GW will be solar power," he said. "Of this, we have already met a target of 20 GW of installed solar power."
He said the aim of the Atal Jyoti Yojana was to install street lights based on solar energy in areas faced with the problem of inadequate electricity.
"The Solar Study Lamp Scheme has benefitted seven million school going children.
READ ALSO: World's largest solar park launched in this Indian state
"We need a solar revolution not only in India but in the world," the Prime Minister asserted.
He said India had contributed $62 million to the ISA corpus fund and for the establishment of the ISA Secretariat.
"I am happy to announce that India will provide 500 training slots per year for ISA member states."
Modi said 13 solar projects in India across the world worth $143 million have been completed or are in the process of being executed.
India, he said, would give $1.4 billion in aid to 15 other developing nations for 27 more solar projects.
"We have set up a project preparation facility consultancy support to partner countries in designing bankable projects.
"I am happy to announce that to fill the solar gap, India will launch a Solar Technology Mission. Its focus will be global and our governmental, technical and academic institutions will lead in efforts in the solar sector."