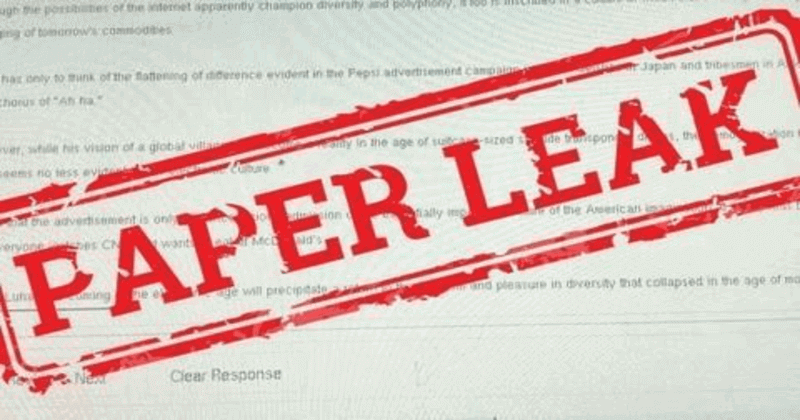 It is exam time in India for the 10th and the 12th students. They have worked hard and diligently for each subject.
But all their hard work is down the drain.
In a major embarrassment for the CBSE, the Accountancy question paper for Class 12 examinations was leaked on WhatsApp and social media on Wednesday evening. As news of the leak broke on Thursday morning, the Board went into a huddle to determine whether the exam should be scrapped, even as students were in the midst of the three-hour paper.
The matter came to light after Delhi education minister Manish Sisodia received the leaked paper just a few minutes before the exam began at 10:30 am. Sisodia immediately called up CBSE head and the education secretary, following which they checked the paper and found out that it matched with the Set-II of Accounts paper. According to reports, the paper was leaked in Rohini on Wednesday evening and later circulated in the national capital through WhatsApp.
READ ALSO: No socks and shoes in halls; extreme methods by authorities
The extent of the leak or the truth behind the same has yet to be confirmed. As per sources accessed, a high-level meeting of CBSE is underway. There is no confirmation as yet about the extent of the alleged leak.
Here is what Manish Sisodia tweeted:
Received complaints about the Class 12 CBSE Accountancy paper being leaked. Have asked officers of Directorate of Education to investigate and lodge a complaint with CBSE.
Swift action must be taken, so that hard-working students don't suffer due to negligence of CBSE.

— Manish Sisodia (@msisodia) March 15, 2018
A source in the Central Board of Secondary Education suspected an insider hand in the leak. "It is impossible for a student to leak a board paper without being in connivance with some insider as Board papers are kept under utmost security and only top officials and teachers are aware of it," he said.
An official in Delhi government said that ideally, the CBSE should annul the exam as large number of Delhi school students take the exam. "So, it's an issue for a large number of Delhi government school students," he said.