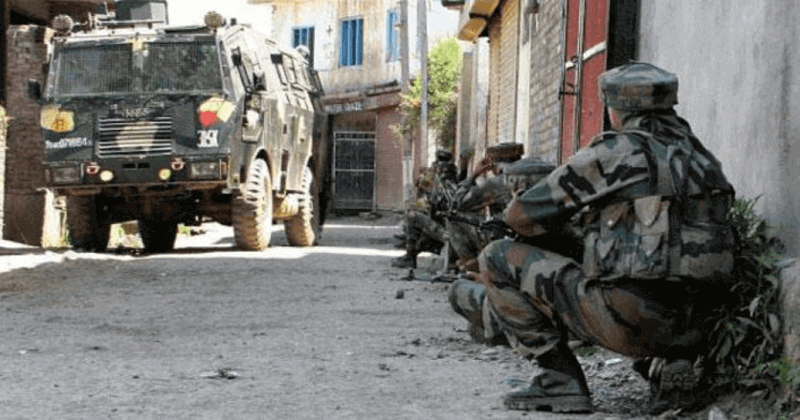 A day ago, Kupwara encounter began, and has now moved into Day 2. The army still continues to fight against the militants, sacrificing their lives.
On Wednesday, 5 security personnel and 4 others were killed in the crossfire against the militants hiding in the forests near Halmathpora village of Kupwara district. Five militants have been killed so far in the operation.
The Army, on Tuesday, had claimed four militants were killed in the operation after a gun battle with security personnel in the forests.
The operation is still underway and reinforcements have been sent to the forest area with the Army seeking the assistance of para commandos, sources said. Unmanned Aerial Vehicles were used to locate the militants hiding in the forests.
Jammu and Kashmir DGP S P Vaid confirmed that four militants were killed. "Body of the fourth terrorist was recovered from encounter site in Kupwara. Firing still continues," he said.
READ ALSO: Jammu Kashmir army shoots down militants; jawans killed
A senior officer said there was a possibility of four to six militants hiding in the area. "The Army is still busy in this operation and we have reports that these militants had infiltrated recently," the officer said.
The encounter is on around 8 km from Kupwara town and Halmathpora is the last village before the LoC, which is 20-25 km away. Officials said it was possible that the militants sneaked into the Valley recently and were waiting for an opportunity to cross into Lolab or Vilgam areas of Kupwara district. Sources said scant snowfall – it normally witnesses heavy snowfall – this year could have helped militants take this route to sneak into Kashmir.
After receiving information about a group of militants hiding in the forests near Halmathpora village on Tuesday afternoon, the Rashtriya Rifles and the Special Operations Group of the J&K Police launched an operation and established contact with the militants. The encounter continued till late in the evening when the Army suspended operations and cordoned off the encounter site for the night.
READ ALSO: 3 militants killed in Jammu Kashmir encounter at Anantnag
The operation resumed Wednesday morning and as security forces scanned the area, militants opened fire again causing serious injuries to three soldiers and two policemen, officials said.
Defence spokesman Colonel Rajesh Kalia said five security personnel, including three jawans and two SOG personnel, were killed in the encounter. "The operation is still underway as troopers want to make sure no militant is allowed to escape." He said five militants were killed after the operation was launched.
The security personnel killed were identified as Havildar Zorawar, Mohammad Ashraf Rather and Naik Ranjeet Singh of 160 TA battalion, and Mohammad Yusuf and Deepak Thusoo of the SOG.
J&K Chief Minister Mehbooba Mufti Wednesday paid tributes to the security personnel killed in Kupwara district. She expressed solidarity with the bereaved families of the deceased and prayed for peace to the departed souls, said a statement.