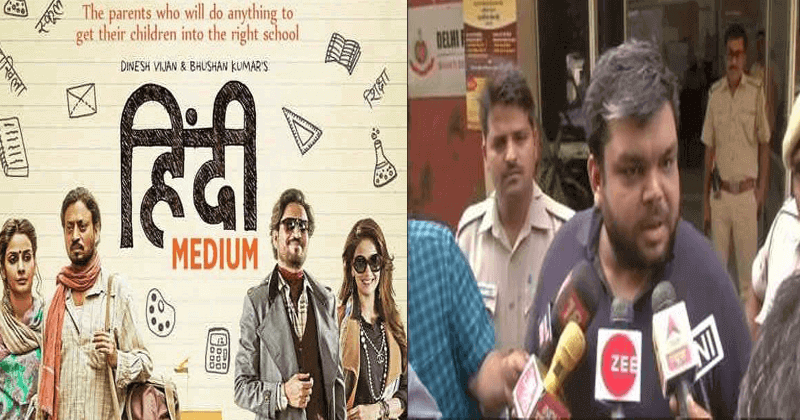 The parents who will do anything to get their children into the right school.
This is the tagline for the Bollywood movie' Hindi- medium'. But only it became a reality and a crime for this child and his sibling.
The Delhi businessman, arrested for allegedly impersonating as a slum dweller to secure his son's admission in Sanskriti school under the economically weaker sections (EWS) quota, told police he had lived in a slum for 10 days to use the address as residential proof.
That was not all. He also forged documents to show the son was born at home and not at a private nursing home and declared his income was Rs 67,000 in 2012-13, the year in which his son got into the school.
Police said Gaurav Goyal and his family lived in a slum at the Sanjay Camp in Chanakyapuri for around 10 days in 2013. But residents of the slum could not remember Goyal ever staying in the locality. The address he provided to the school was also verified on paper by a sub-divisional magistrate.
READ ALSO: Schools are warned not to shame kids over non-payments of fees
Documents forged
Goyal, city businessman was arrested on Thursday from his north Delhi's Jawahar Nagar home, after the school administration filed an FIR, accusing him of attempting to get his elder son admitted to the school using forged documents. The school authorities, in their complaint, also accused Goyal and his wife of allegedly submitting forged documents to secure his elder son's admission in 2013.
Under the EWS category, 25% of seats are reserved for students from the underprivileged background whose family income is less than ?1 lakh per annum. Goyal, police said, runs a pulse trading business and has traveled abroad at least 24 times in the past eight years.
On Sunday, HT visited the house at Sanjay Camp. The run-down one story house next to a drain, which Goyal had claimed to be his house in his son's school documents, is owned by an elderly couple.
The couple denied Goyal's claim and said that they have been living there since 1982. Sarifan Islam, 65, said she has never rented out her house to anybody or allowed any outsider to stay in 2013. The woman denied knowing Goyal.
READ ALSO: Bollywood Celebrities Who Studied In Same Class And School
Never seen them, say slum residents
"I shifted to this jhuggi with my husband two years before Indira Gandhi's death. Though my husband is paralyzed for the last two years, and we are struggling to make ends meet, I had never rented our jhuggi to anyone. The person who claims to have stayed in my house on rent is lying," she said.
Sarifan's neighbors supported her, saying they had never seen any family living in her jhuggi .
"Many people living in Sanjay Camp slum are illiterate and do not even know what EWS quota is. Some racketeers living in our neighborhood target such families and use their residential and other personal details for various illegal activities. I am sure the elderly couple's details were also compromised," said Ratan Agnihotri, a neighbor.
An investigating officer said that during interrogation, Goyal said his employee, Anil, who lives in the same slum, had allegedly helped him get the jhuggi on a monthly rent of Rs 1,500. On Friday, police took Goyal to the slum where he identified Anil's house and also the elderly couple's room.
HT met Anil on Sunday but he denied his involvement. He said he has never met Goyal. Anil admitted that his father Hira Lal knows Goyal. "I asked my father, but he claims that he had not helped anybody get Sarifan's jhuggi on rent," Anil said.
Deputy commissioner of police (New Delhi), Madhur Verma said, "Goyal used a forged residential address for his elder son's admission and the same has been verified by the local sub-divisional magistrate. We are investigating the case."
READ ALSO: 45,000 schools threaten to shutdown, protesting against non-payment of dues
How the fraud was detected
Police said Goyal's fraud was detected by the school authorities when he applied for his second son's admission under general category and requested a change of status of his first son, a Class 3 student, from EWS to general. The documents submitted by the parents claimed they were now residents of south Delhi's Safdarjung Enclave.
The school authorities sent Goyal and his wife's voter ID cards to Delhi's electoral officer, who confirmed that the cardholders were registered voters in the Safdarjung Enclave since February 13, 2018, and not February 13, 2016, as mentioned in the documents submitted by the couple to the school for their second son's admission.
"Our probe revealed that Goyal had also obtained a forged birth certificate of his first son from the municipal authorities. While his son was born in a private hospital in August 2009, the forged birth certificate shows he was born at home in March 2010," the officer said.
READ ALSO: Modi government to open Atal Tinkering Labs in 30,000 schools
False income declaration
To support his EWS quota claim, Goyal had allegedly declared his annual income as Rs 67,000 in 2012-13. But he filed the income tax return for his annual income of Rs 4.23 lakh a same year. He has traveled abroad 24 times in the past eight years. "We have evidence to prove that he owns several business and properties. His son used to come to school in an Audi car," added the officer.
Atishi Marlena, the advisor to education minister Manish Sisodia, said, "While it is not possible for the government to individually cross-check each student's address if a school observes that a child seeking a seat under EWS category is apparently not from an economically weaker section, then they should cross check. Prior to the online process, it was entirely up to the school to give admission under EWS and there was a possibility of wrong admissions. This was seen in the Bal Bharti case where frozen slips were used in drawing of lots."
An official from the education department said they received a complaint from the school and investigated the matter. "There were inconsistencies in the documents submitted by the parents," the official said.
READ ALSO: Shocking !!! Married School teacher arrested for having sex with student at class room
What is the process  of an EWS form
25% of total seats are kept for EWS category Offline forms are issued that parents have to fill. School conducts the draw of lots of applications under different distance limit
Offline forms are issued that parents have to fill.
School conducts draw of lots of applications under different distance limit
The first draw of lots is for applications from 0-1 kilometers and if seats are left then it is done for 1 to 3 kilometers and then for 3 to 6 kilometers
Residence proof: (Ration Card, Election I Card, Aadhaar card, Passport)
Income certificate issued by revenue department certifying that the income of the parent is less than Rs 1 lakh
Schools cross-check the information filled in the form and the documents