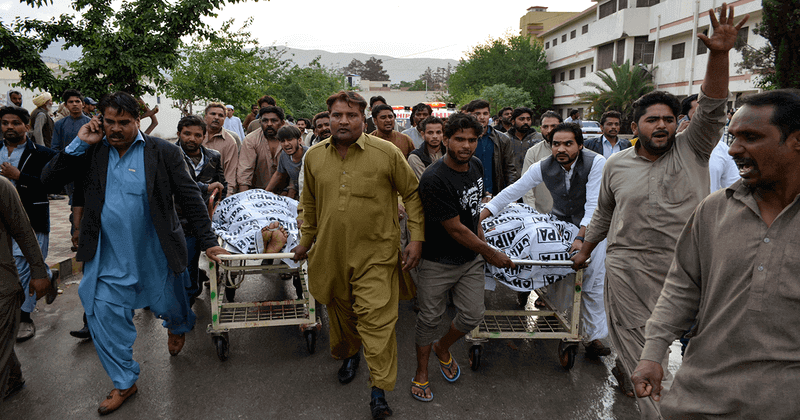 What started out a calm, simple ordinary day quickly turned into tragedy with devotees being shot down by gunmen.
Two Christians were killed in a drive-by shooting outside a church in southwestern Pakistan Sunday, officials said, the second such attack in the area in April.
Daesh's local franchise claimed responsibility for the attack in Quetta, capital of Balochistan province, the SITE intelligence group said.
Balochistan, a region bordering Afghanistan, is plagued by violence by Sunni Islamist sectarian groups linked to the Taliban, al Qaeda, and Islamic State. It also has an indigenous ethnic Baloch insurgency fighting the central government.
 "Four men on two motorbikes opened indiscriminate fire" on a group of Christians, "killing two people while injuring three others", local police official Abdul Razzaq Cheema told a leading news agency.
It came just weeks after four Christians were shot dead in the city, an attack also claimed by Daesh.
READ ALSO: Afghan troops clashed with Pakistani forces near the disputed border
Sunday's shooting took place in the Christian-majority Esa Nagri neighborhood of Quetta, where hundreds gathered to protest the killings.
"Around 500" protesters blocked a road by placing the bodies of the two victims in the middle, said local official Javed Anwar Shawani.
"We are negotiating with them to make them disperse and bury" the victims, he added.
Islamic State has created a branch in Pakistan and Afghanistan in recent years mostly by recruiting among established militants. Its followers have claimed some of Pakistan's most deadly recent attacks.
Islamist militants have in the past attacked Christians and other religious minorities in Balochistan.
In December last year, two suicide bombers blew themselves up at a Quetta church, which was packed with worshippers, killing nine people and wounding over a dozen.
Christians make up less than 2% of Muslim-majority Pakistan's 200 million people and have long faced discrimination and violence.