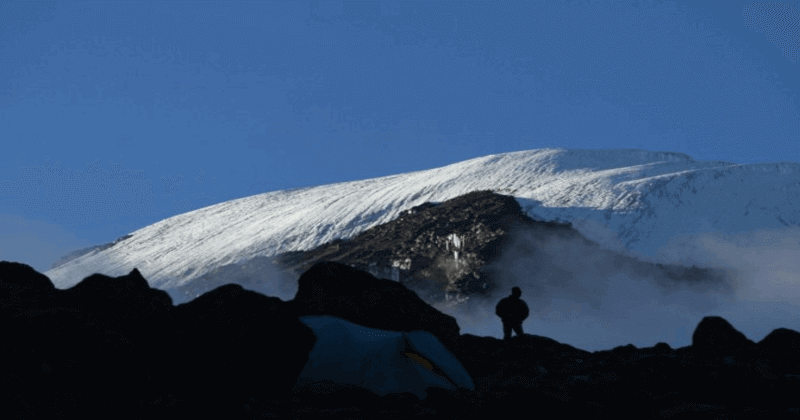 Have you ever climbed a mountain? What was the experience like? Fun, adrenaline –fulfilling, the zeal to accomplish it—something along those lines?
In a remarkable achievement, a 7-year-old boy from Hyderabad, India, has scaled Mount Kilimanjaro, the highest mountain in the African continent. Samanyu Pothuraju scaled a height of 5,895 meters above sea level and unfurled the Indian tricolor flag at the Uhuru Peak in Kilimanjaro on April 2.
Mt. Kilimanjaro is a dormant volcano located in Tanzania at a height of 4,900 meters (16,100 ft) from its base to 5,895 meters (19,341 ft) above sea level. 
Pothuraju was accompanied by his mother Lavanya (second name not provided), his coach Thammineni Bharath, a fellow mountaineer Shangabandi Srujana, and a woman, all hailing from Hyderabad. A local doctor from Tanzania also joined them on their landmark journey.
Pothuraju, along with other trekkers, started their journey from the base point March 29. It took them 5 days to reach the top.
READ ALSO: Places you should visit before you die: Tianzi Mountains, China
"It was a rainy day and the road was full of stones. I was afraid and had pain in my legs, but I took rest in between and reached the peak. I like snow a lot and that is the reason I went to Mount Kilimanjaro," Samanyu was quoted as saying by a leading Indian news agency.
He added: "Pawan Kalyan is my favorite hero. My mom promised me that she will make me meet him if I try the world record. Now I am eagerly waiting to meet him. I will go to the Australian peak next month ending and want to make the record. I am studying in class 3 and computer is my favorite subject, I will never neglect my studies because of this."
His mother, Lavanya, faced difficulties at the mountain owing to the harsh climate following which she had to stop halfway due to her health condition. However, she was extremely happy for her son.
"I am really very happy as my son tried to achieve a world record. Our next target is Australia, 10 peaks in May end and that will also be the record for my son," she told the agency.