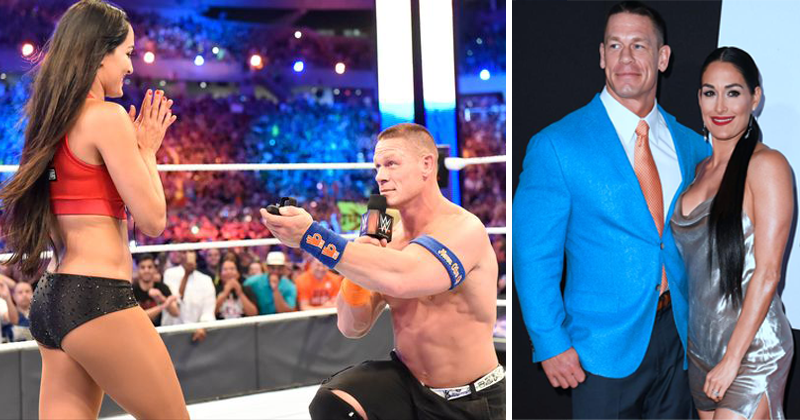 After six years together, John Cena and Nikki Bella have called it quits, the couple revealed exclusively to Us Weekly.
"While this decision was a difficult one, we continue to have a great deal of love and respect for one another," the couple tells Us in a statement. "We ask that you respect our privacy during this time in our lives."
Cena, 40, proposed to Bella, 34, one year ago at Wrestlemania 33. The two have been dating since 2012. The pair were last were spotted in public together at Wrestlemania 34 on Sunday, April 8.
Nikki Bella and John Cena announced their split on April 15, 2018, with a joint statement on social media after a year of engagement following the wrestler's proposal at Wrestlemania 33.
Although the reason for the break up has not been confirmed, there have been allusions to conflict over his decision to never have children, which had led to difficult conversations with Nikki.
Also Read: Porn Star launches legal action against porn site and co-star
'I think I'll be snoopy. I will want to know what they're going through so I can be like, "Hey, one time, this happened to me and this is how I messed it up. Don't let that happen."'
In conversation with US Weekly, John explained that he would try to office his potential future children advice. 'I'll also be protective because I can see the forest through the trees and be like, "You're doing it wrong". But that's so going to backfire.'
Nikki Bella's net worth has accumulated to approximately $4 million (£2.8m), according to Celebrity Net Worth. As one of the top 10 most successful Divas, John Cena and Nikki Bella could have become the Jay Z and Beyonce of WWE, according to Forbes.
WWE Television revenue increased by 23% from the prior quarter to $68.6 million (£48m) because of Total Bellas, the show that featured John and Nikki in a starring role. Alongside this, The Bella Twins' YouTube channel has over 300,000 subscribers.