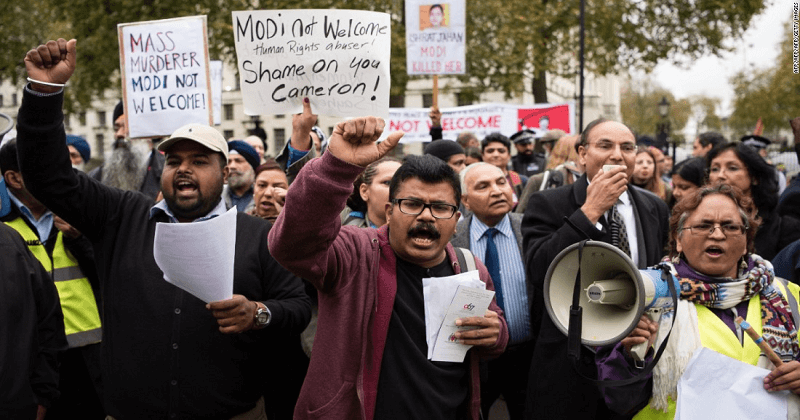 A mixed greeting of Anti-Modi protesters, Prime Minister Narendra Modi received as he footed in the United Kingdom Wednesday on a four-day visit. Anti-Modi protesters raised banners which read "Modi, you have blood on your hands" and "Modi Not Welcome", reported.
UK and South Asia Solidarity group led this protest, which were protesting the Kathua and Unnao rape cases, the murder of Bengaluru-based journalist Gauri Lankesh and other relating issues. "Hindu nationalism must be curtailed to avert India sliding towards wholesale dictatorship threatening democratic fabric, rule of law and the unity of India," a Caste Watch UK spokesperson was quoted, reported.
Modi supporters welcomed him with slogans in favor of India's development. "We want to welcome the Indian Prime Minister to the UK and show him the diaspora support he enjoys," one of his supporters outside 10 Downing Street said.
Read More: Pilot threatens co-pilots with ax; complaints registered
Speaking to the Indian diaspora, Modi mentioned the incidents of rape in the country are extremely sorrow and painful and brought shame to the country. He added they should not be politicized. "I have never indulged in counting the number of rape incidents in this government and that government. Rape is rape, be it now or earlier. It is extremely sad. Don't politicize rape incidents," he was said.
The Prime Minister held bilateral talks with his British counterpart Theresa May yesterday, apart from holding other official engagements including meeting Queen Elizabeth II.