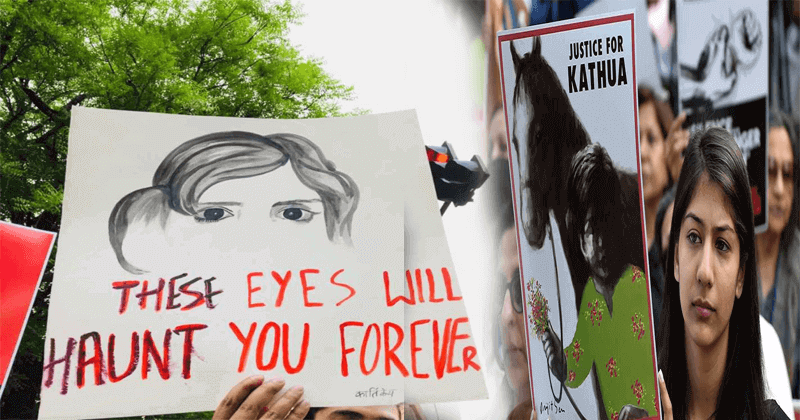 The Kathua rape case had triggered the society in protests, demanding justice for the 8-year-old.
Many took to their social sites, posting hashtags, while some created posters and paintings.
A self-taught artist from Kerala, Durga Malathi, who drew a cartoon to show her outrage against the brutal rape and murder of an eight-year-old girl in Kathua, is the latest target of Saffron outfits.
After putting out abusive comments and death threats on Durga's Facebook page, miscreants have reportedly pelted stones at her house near Palakkad. The stone pelting also damaged the windshield of a jeep parked in front of the house.
The cartoon depicts the victim's bleeding representation on a male sexual organ with Tripundra (three horizontal lines made with sacred ash). The BJP flag flies on the head of the organ. Durga has come out with similar cartoons in the past as well.
The attack at her house occurred sometime on late Thursday night. Durga told a leading daily that she and her friends have been attacked on social media since the last few days.
READ ALSO: SHOCKING!!! Minor raped and killed, youth arrested
"We are subjected to online sexual harassment. Not only were me but also my friends who have commented in favor of my cartoon also targeted," she said.
Durga has lodged a complaint with the local police before and after her house was attacked.
Durga stated that she was upset by the silence of the mainstream media. However, she has reportedly declined to apologize for the drawing.
A report quoting her stated, "Anyone can be attacked in this so-called progressive state of Kerala if their religious sentiments are instigated… Seeing the silence of many, I think many believe that I deserve all these… I have to remind myself often that I am living in a democratic nation… If I am denied justice I will have to believe that democracy is a blatant lie…"
The local CPI (M) functionaries have expressed solidarity with Durga Malathi.
READ ALSO:  PM Modi should pay more attention to Indian women: IMF chief
The local police have registered a case against the miscreants and tightened the security for Durga.
The teacher and an artist, who has been facing immense criticism on social media over the last few days for protesting against the Kathua rape and murder case,  had done two paintings depicting male genitals along with some Hindutva idols, inviting abuse and threat on the social media for allegedly 'hurting religious sentiments.'
Malathi said in a post on Facebook that a group of people reached her house around midnight and started stoning her house. "They threatened me with dire consequences if I draw more pictures and paintings depicting the plight of the victim. They said my drawings and paintings hurt their sentiments. But they can't stifle me like this," she said.