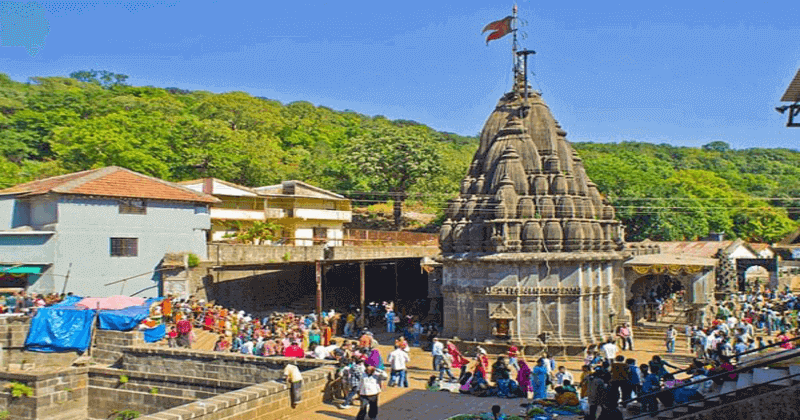 Bhimashankar temple is located in the ghat region of Sahyadri hills. It is a Jyotirlinga shrine located near Pune. The other two Jyotirlinga shrines located in Maharashtra state are Trimbakeshwara and Nashik. Bhimashankar is also the source of the river Bhima which merges with the river Krishna.
see also: Kashi Vishwanath Temple – Varanasi India
Bhimashaankar temple can be easily accessed by any means of transport.The nearest airport , railway station etc are all in Pune.
The mythology behind the temple is very interesting. It is believed that long ago , an asura existed in those mountains who's name was Bhima. Everyone was scared of him but as time passed he was confronted with questions of his origin of existence. He asked his mother to reveal the secrets of his life and it was revealed to him that he was the son of KumbhKarna, the brother of Ravana. The mother also told him that Kumbhkarna was killed by Lord Rama, a manifestation of Lord Vishnu. He was infuriated by the story about his father and vowed to take revenge against Lord Vishnu.With that intention he set himself for a penance to please lord Brahma. Brahma, eventually made his apparition before him and gave him powers. He used that powers to wreck havoc in all worlds. All devas approached Lord Siva for a solution and Siva later engaged himself in a battle with Bhima and reduced him to ashes. Under the request of all other devas, Shiva manifested himself in the form of Jyotirlinga there. 
The temple is constructed in 'Nagara' style of structural design. The temple shows the skills of ancient Vishwakarma sculptors and it dates back to 13th century. The great Maratha ruler Shivaji is known to have made endowments to this temple. Like most of other temples in the area, the sanctum is at a lower level. A large bell can be seen in front of the temple with an idol of Mother Mary and Jesus. It was gifted to the temple by Chimaji Appa(brother of bajirao Peshwa). Around the temple we can see Buddha style carvings.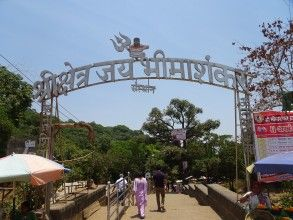 The temple is perfect with its calm atmosphere. The fact that it is surrounded by the high ranges also helps the climate. Also one can enjoy a wonderful view of places from here. If you want to switch from Spiritual mode to Adventure mode, there are places around temple available for treking too.