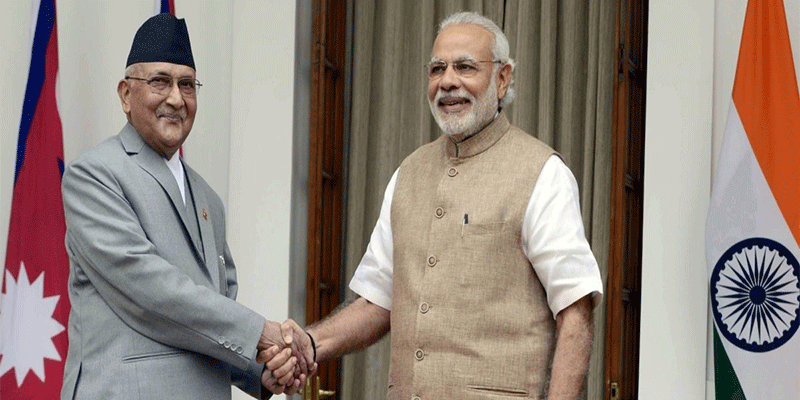 As of yesterday, the high-string Karnataka elections campaigning ended, and the today Prime Minister Narendra Modi is to set off for Nepal.
PM Modi will leave for a 2-day visit, where he is to reset relations, focusing on faith diplomacy by restoring Hindu pilgrimage links.
Modi will arrive in Janakpur to pay obeisance at Janki Devi temple, the birthplace of Goddess Sita and fly to Muktinath, a famous mountainous pilgrimage site situated near the Nepal-Tibet border. After attending a civic reception, he will head to capital Kathmandu for official engagements.
In Kathmandu, he will visit the Pashupatinath temple and then go to Muktinath, a sacred place for both Hindus and Buddhists, at an altitude of 3,710 m on the Himalayas. He will visit Shakti Peeta, a Shiva-Parvati temple, where, the Tibetan Buddhists believe, its founder Guru Rinpoche had meditated.
Within 3 years, this is PM Modi's 3rd visit to Nepal and is set to meet President Bidya Devi Bhandari, vice-president Nanda Bahadur Pun, and hold bilateral talks with his Nepalese counterpart, Prime Minister Oli. He will also meet the top political leaders of Nepal, including CPN-Maoist Centre chairman Prachanda, Nepali Congress president Sher Bahadur Deuba and leaders of two major Madhesi parties.
READ ALSO: Distracting attention from people is what Modi attempts on my PM ambition: Rahul Gandi
In Kathmandu, Modi and Oli will jointly lay down the foundation stone for the construction of the 900 MW Arun III project being developed by India through a remote control on Saturday. Arun III is the largest hydropower project to be developed in Nepal and the government has recently granted a generation licence. The project, expected to be completed within five years, will prove to be a game changer for the Nepalese economy as it aims to provide billions of dollars to the Nepal government in the form of free electricity, royalty and tax, and India, too, would benefit from the supply of the electricity generated by the project.
"Modi's visit will certainly consolidate Nepal-India bilateral relations," said Sunil Manandhar, former science and technology minister and central secretariat member of the ruling CPN-Maoist Centre. "The visit is taking place at such an important moment when a stable government is in place at the centre with the slogan of attaining economic prosperity and development," Manandhar pointed out, adding the visit would be instrumental for Nepal's desire to attain economic progress through cooperation and assistance from India.
"This visit signifies that India accords top priority to her relations with Nepal, and our government should pay attention for getting maximum benefit from the visit," pointed out the former foreign minister and Nepali Congress leader Prakash Sharan Mahat. Although the Oli-led CPN-UML had raised the issue of the blockade during the election campaign and nationalist slogans, after winning the election the Leftist party toned down its voice and adopted a positive attitude towards India, Mahat said. "Nepali Congress has been consistently following the policy of a 'good neighbourhood' and we believe in resolving any problem or issue between the two countries through diplomatic means," he added.
The visit will certainly help clear doubts between the two friendly neighbours and help build trust as well, paving the way to move forward by forging an economic partnership.