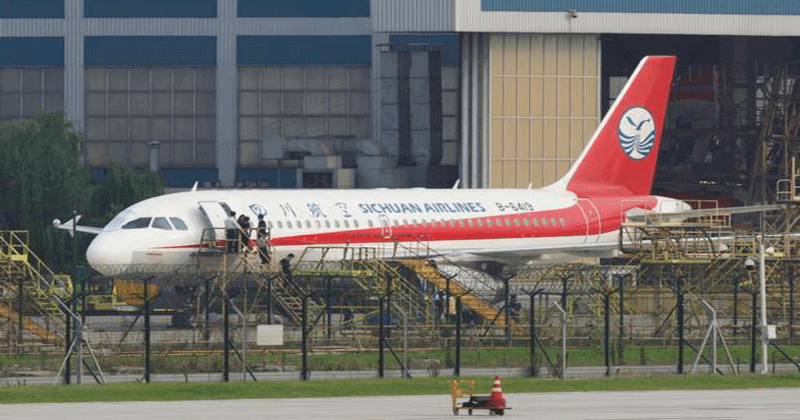 In every flight hijack movie, after the terrorist threats are neutralised, the hero will have to take control of the flight . Pilots would have been long gone by then and with multiple holes in the fuselage, the hero will somehow make a crash landing. Liu Chuanjian, the pilot was one such hero who landed Airbus A319, after his cockpit was torn. His flight had reached 32000 feet when he heard the sound and the cockpit started to experience loss of pressure and temperature. The cockpits right windshield had completely gone by then.
see also: Aircraft on mission crashes leading to death of 4 passengers
"There was no warning sign. Suddenly, the windshield just cracked and made a loud bang. The next thing I know, my co-pilot had been sucked halfway out of the window," he was quoted as saying.
The Co pilot who had his seatbelts on was pulled back in. He now has sprained wrists and scratches on his body. Another crew member suffer d injuries too but luckily all the 119 passengers were left unhurt.
Sichuan Airlines Flight 3U8633 left the central Chinese municipality of Chongqing on Monday bound for the Tibeta
An unnamed passenger told a government news service in China that the aircraft began to shake when he was eating his breakfast. He said he had no idea what was going on and after experiencing a few minutes of free fall, the flight stabilised again.
The windshield broke after half an hour the plane had taken off. Cracks in windshield happen a lot more often due to bird strikes and lighting but an entire windshield coming off is a rarity.
"Everything in the cockpit was floating in the air. Most of the equipment malfunctioned … and I couldn't hear the radio. The plane was shaking so hard I could not read the gauges." said the pilot.