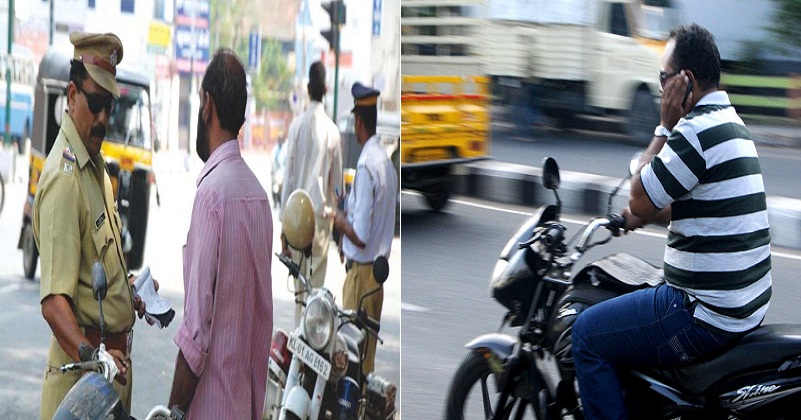 Talking on mobile phone while driving is not an offence : High Court to Kerala Police
The Kerala high court ruled that talking on the mobile phone while driving is not an offence, unless it can be established that the act, in the particular instance when the driver was caught, had endangered public safety.
A division bench of the court said that there are no provisions in the existing law to book a person for speaking on the phone while driving.
The high court was hearing a petition by MJ Santhosh, a resident of Kochi, who was booked by the police under Section 118 (E) of the Kerala Police Act and Section 184 of the Motor Vehicles Act for talking on the phone while he was driving.
The court disposed of the case without fine, and ruled that the police could take action only if it was established that talking on the phone while driving had endangered the safety of the public. It also observed that no provision existed in the state Police Act banning drivers from talking on their mobile phone.
If a case has to be registered, the existing law should be amended and passed by the legislative assembly, it said.
"There is no provision in the Police Act that bans people from talking over mobile phone while driving. Hence a person doing this can't be assumed as one causes danger to the public," the bench said.
Also Read : The people put an indelible mark on the Edappal Child Rape case convict.
"The court can't rule that the person who speaks on a mobile phone while driving causes danger to the public. The assembly should pass an amendment to include these provisions in the Police Act to make it an offence. If the police had registered such cases in the state those concerned can approach the respective magistrate courts to quash their cases," the bench added.
N Madhusudhanan Nair, a researcher in road safety and driver behaviour at IIT-Delhi, said that most of the fines under the Motor Vehicles Act are pre-emptive to prevent accidents from happening. "…the human brain is not conditioned to perform two important tasks such as driving and talking on the phone at the same time. The entire point of having a road safety law in a country is to prevent accidents. If I am walking swinging a sword on the road, would the authorities wait till I cut someone's head to apprehend me?" Nair said.
High court orders set precedents that could have an impact across India.