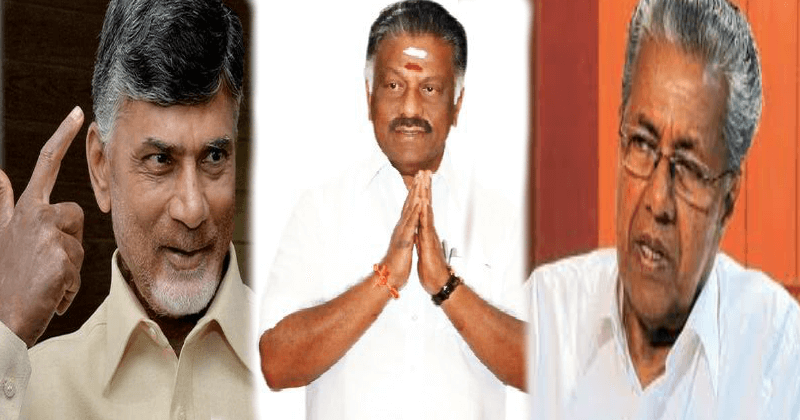 The will of the people have been subverted in Karnataka as the reactions of leaders of Congress and JD(S) itself are hinting the same. Amidst the claims by opposition that BJP cannot enter southindia, it emerged as the party with the highest number of seats in Karnataka. How has the other major political parties responded to BJPs entry in to Southindia ? Let's take a look.
see also: Congress Leader DK Shivakumar says he "Swallowed Bitterness" to make Govt with JD(S)
How AIADMK responded.
In Tamilnadu, All India Dravida Munnetra Kazhagam has welcomed BJPs victory and congratulated the party for making inroads in South India. Deputy Chief minister of Tamilnadu, O Paneerselvam sent a letter to BJP president Amit Shah in which he said "On this cheerful occasion, I wish to express my warm greetings and felicitations for the significant victory of Bharatiya Janata Party (BJP) in Karnataka Assembly Elections, bellwethering a grand entry to South India. " . The opposition party in TamilNadu, DMK also congratulated the party for its victory but used the occasion to bring in the Carvery issue. He expressed hope that BJP will not violate Tamil Nadu's rights on Cauvery issue.
How TDP and TRS responded
The response of TDP AND TRS from telugu speaking states have not been very heartwarming. TDP party, which recently severed it's connections with BJP said the result will not have any impact on state politics. TRS, already feeling threatened by the strong organisational presence of BJP in Telangana had spoken with Congress and JD(S) regarding the formation of an anti BJP alliance
How Kerala Responded
Kerala government led by Pinarai Vijayan has always been the biggest cynic of Central Government. Unable to make their presence felt at national level politics, Communist Party has always felt bitter at every advancement BJP makes. When the impasse occurred in Karnataka, Pinarayi Vijayan was one of the first leaders to announce the possibility of Congress-JD(S) alliance .