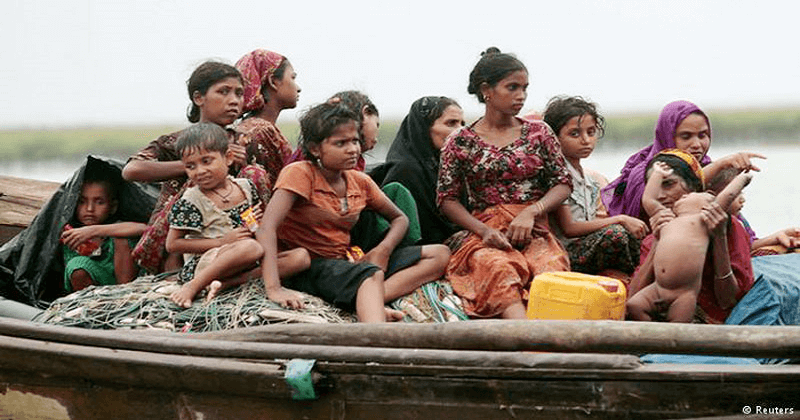 About 150,000-200,000 Rohingya refugees in Bangladesh's Cox's Bazar are at risk from flooding and landslides during the monsoon season, the UN has reported.
UN Secretary-General Antonio Guterres' spokesperson Stéphane Dujarric told reporters on Tuesday that more than 7,000 Rohingya refugees were affected by storms or landslides earlier this month, at the start of the monsoon season.
"The monsoons typically deposit 2.5 meters of rain on Cox's Bazar, resulting in significant flooding. As a result, 150,000-200,000 refugees and 883 community facilities are at risk from flooding and landslides during the monsoon season, including 25,000 refugees at critical risk," he said.
The United Nations migration agency said a major canal dredging project underway in Southern Bangladesh to protect Rohingya refugees from monsoon floods will have the added benefit of boosting local agriculture.
The International Organization for Migration (IOM) is overseeing the dredging of more than nine kilometers of abandoned canals, which will then be renovated, in the Cox's Bazar area, which is home to around 700,000 mainly-Muslim Rohingya who has fled violence in northern Myanmar.
The IOM said the project in Ukhiya sub-district would prevent flooding and allow water runoff during the annual heavy rains that come with the arrival of monsoon season. Moreover, the UN agency has employed 50 Bangladeshi laborers locally, to carry out the work, as part of a wider IOM-supported disaster-preparedness programme.
The project will not only help safeguard lives and livelihoods when the monsoon hits by reducing the risk of flooding, it will also provide much-needed irrigation channels during the dry season.
Read More: Rohingya Muslims Killed the Hindus in Myanmar mercilessly: Amnesty Report Says
Cox's Bazar was already prone to landslides and flooding, even before hundreds of thousands of Rohingya refugees began arriving at the end of last August. IOM, the World Food Programme (WFP) and the UN human rights office (OHCHR) are participating in the USD 20,000 canal clearing project.
Other IOM projects include bridge building, access roads, steps, drains, and slope protection work, to enable communities to cope with the monsoon. The agency is also stockpiling emergency aid, such as tarpaulins, food, water and medical supplies to ensure that urgent needs of both the refugee and host communities are met.