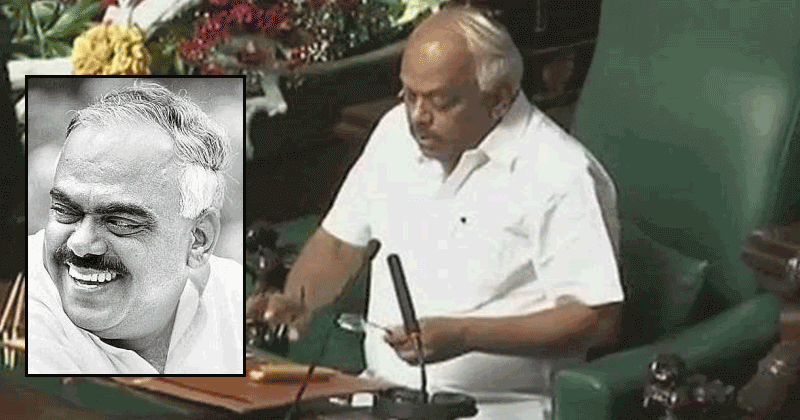 Today Karnataka elected her new Speaker- Congress MLA Ramesh Kumar. Let's know more about the man of the hour.
KR Ramesh Kumar, the Congress MLA from Srinivaspur, was unanimously elected as the Speaker of the Karnataka Assembly on 25 May, just ahead of the floor test of the newly-elected government led by HD Kumaraswamy.
His name was put forward by the former CM and current Congress party legislative leader Siddaramaiah. This proposition was backed by the current Deputy Chief Minister G. Parameshwara.
Ramesh Kumar was opposed by BJP candidate Suresh Kumar, who later withdrew his nomination, declaring Ramesh Kumar as the Speaker.
This is not Ramesh Kumar's first stint as a Speaker, but his second.  He has previously served as the speaker of the assembly between 1994 and 1999, during the   HD Deve Gowda and JH Patel governments. He was a member of the Janata Dal then. Kumar first won an election in 1978 as a Congress member before moving to the Janata Dal in 1985.
READ ALSO: Mamata Banerjee unhappy at the Karnataka Chief Minister's swearing-in
In 2004, he moved back to the Congress and has been with the party ever since. Ramesh Kumar has also served as the state health and family welfare minister in the government led by former chief minister Siddaramaiah.
Karnataka Chief Minister HD Kumaraswamy congratulated his victory saying "We are happy about your unanimous election as the speaker of the house."
In his congratulatory speech, Yeddyurappa said, "You have an experience as a humble and fair person. The Opposition will cooperate with you in every possible way."
BS?Yeddyurappa added that his party's candidate, Suresh Kumar, withdrew his nomination so there could be a unanimous choice. "The Speaker's post belongs to no party," the former CM said
"With his election again as Speaker, the chair has got new respect. There is no one more suitable for the Speaker's post than you," said Congress DK Shivakumar, the architect of the coalition government in the state.
Shivakumar also commended the S Suresh Kumar for withdrawing his nomination in favour of Ramesh Kumar.
"You and BJP MLA S Suresh Kumar have been good friends and we have seen fruitful interactions between the two of you. It is commendable that he withdrew his nomination to make way for your selection," said Shivakumar.