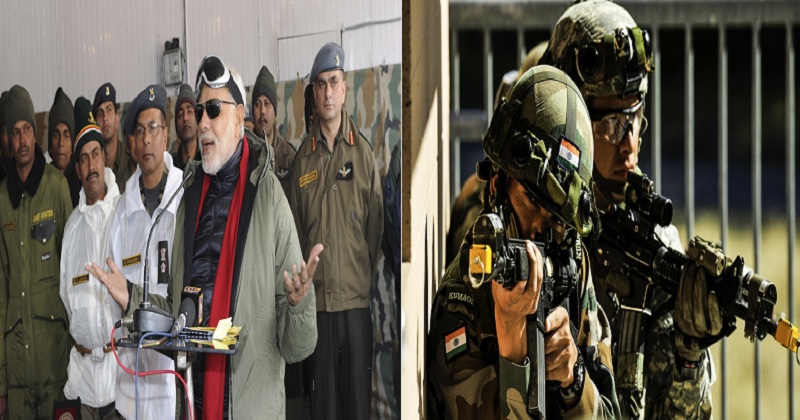 4 Years of Modi Govt : Major Achievements In Indian Defence Sector
The Narendra Modi Government has completed four years today. During these four years, the NDA Government has introduced a number of reforms that have been appreciated by the people of the country including Swachch Bharat project, Demonetisation, implementation of Goods and Services tax, Ujjwala Yojna, among others.
Even rating agency Moody's upgraded India's sovereign rating after the gap of 14 years long years. Recently, the government has also claimed that is has connected all villages in the country with electricity.
One Rank One Pension was a huge issue and one of the biggest challenges for the Narendra Modi led NDA government at the Centre which completed four years in office. It was an issue concerning lakhs of ex-servicemen who guarded the nation without fear or favour.
The Defence Ministry had its task cut out and it managed to resolve the issue. The ministry says that the issue was resolved after four years and the decision announced by Prime Minister Narendra Modi. The other big news where this ministry is concerned was the surgical strikes on Pakistan.
OROP :
Status Report on implementation of OROP benefits as on 30.09.2017 and compiled up to 31.12.2017 As per the reports received from the CGDA, a sum of Rs. 4,161.45 crores, Rs. 2,397.22 crores, Rs. 2,320.7 crores and Rs. 1,859.72 crores have been paid towards first, second, third and fourth installment of OROP arrears respectively. 20,43,354 Ex-Servicemen/family pensioners, 15,94,063 Ex Service men, 15,71,744 Ex-Servicemen and 13,28,313 Ex-Servicemen are the beneficiaries during these four instalments respectively. Total arrears paid Rs. 10,739.09 crores.
Other measures for ex-servicemen ::
– Number of scholarships under Prime Minister Scholarship Scheme has been enhanced from 4000 to 5500 from academic year 2015-16.
– Marriage Grant for daughter has been enhanced from Rs. 16,000/- to Rs. 50,000/- from April 2016.
– Web portal has been launched by Kendriya Sainik Board on March 11, 2016 for online process of applications.
INS Kalvari ::
– INS Kalvari: Prime Minister Narendra Modi dedicated the naval submarine INS Kalvari to the nation on 14 December 2017.
– Brahmos, the World's fastest supersonic cruise missile created history in November 2017 when it was successfully flight-tested first time from the Indian Air Force's frontline fighter aircraft Sukhoi-30MKI.
– The surface-to-air missile Akash was successfully launched.
– The first ever tri-services exercise INDIRA between India and Russia was conducted in October, 2017.
– Special campaign to celebrate Armed Forces Flag Day to honour the martyrs and the men in uniform.
– The first ever Indian circumnavigation of the globe by all-women crew on Indian Navy sailing vessel INSV Tarini. The Tarini was flagged off on 10th September 2017 and is expected to return to Goa in April 2018. The expedition titled 'Navika Sagar Parikrama' is in consensus with the national policy to give women power to attain their full potential.
Other Initiatives ::
Defence Travel System has been rolled out wherein defence units can book tickets online.
The project has been implemented by Railways. Both rail and air travel modules have been developed. As of 28th December 2017, 5759 defence units have been covered under the system out of the existing 10675 units. A total of 12,19,969 beneficiaries have been enrolled on the system till date. On an average, 5.1 lakh rail tickets are being booked through the system with an average expenditure of Rs 70 crores per month. The system is continuously under up-gradation based on new IT developments, new requirements and feedback.
A comprehensive web based interactive Pension Disbursement System for Defence Pensioners will be established. This system will receive pension proposals and make payments centrally. This will reduce the grievances of defence pensioners.
Also Read : Military Power Comparison : India vs China ,which country has stronger military
SIMPLIFIED 'MAKE-II' ::
Defence Acquisition Council, chaired by Defence Minister Nirmala Sitharaman, in its meeting on 16 January 2018, cleared a simplified 'Make-II' procedure to enable greater participation of industry in acquisition of defence equipment.
This process will greatly help import substitution and promote innovative solutions.
This simplified 'Make-II' procedure will amend the existing 'Make Procedure' in Defence Procurement Procedure (DPP)-2016.
Rafale ::
The Government of India signed an Inter-Government Agreement (IGA) with Government of France for procurement of 36 Rafale aircraft on September 23, 2016. The delivery of the aircraft would commence in September 2019 and would be completed by April 2022.
The IGA includes initial consignment of weapons, maintenance support through Performance Based Logistical (PBL), simulators and associated equipment. The IGA also includes discharge of 50 percent offsets by the French Industrial Suppliers.
Rafale is an omni-role fighter, which will provide long-range capability to engage targets in depth and will provide a strong weapons and systems capability edge over our adversaries. The weapons include air-to-air Beyond Visual Range (BVR) METEOR missile which is superior to the proposed MICA BVR Missile for MMRCA package. For ground targets, Rafale is equipped with long-range SCALP precision guided air-to-ground weapon which will provide a strong attack capability for striking precision targets. In addition, the Rafale for IAF has certain Indian specific enhancements which will provide the aircraft with better capabilities including engine start from high altitude airfields.
AGNI-V ::
– Test flight on 26th December, 2016.
– The test flight further boosted India's indigenous defence capabilities and deterrence levels.
Surgical Strikes ::
In order to protect Indian borders and put an end to cross-border terrorism Indian Army conducted surgical strikes in PoK on 29th September, 2016.
Surgical Strikes reflect zero tolerance for terror 
– On 18th September 2016, terrorists struck at an army camp at Uri and martyred our Jawans. In response:
– Indian Army conducted surgical strikes at several terrorist launch pads to pre-empt infiltration by terrorists.
– Significant casualties were caused to terrorists and those providing support to them.
– Indian army struck a blow to terrorist infrastructure and designs.
– International community reacted overwhelmingly in India's favour.