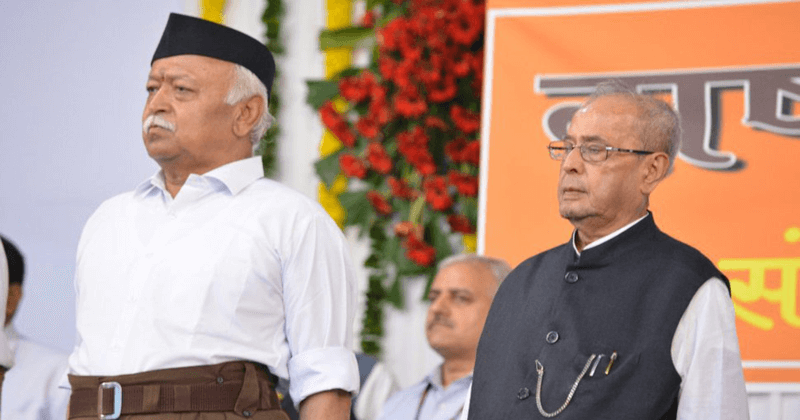 Rashtriya Swayamsevak Sangh(RSS) lashed out at those whom they believed to have morphed former President Pranab Mukherjee's photo showing him to be wearing the RSS cap and standing in their prayer position. They held responsible "divisive political forces" who had tried to make Pranab refrain from attending the function posted the morphed picture of him later after the function.
See also:Pranab Mukherjee's daughter predicts something serious about the presence of Pranab in RSS function
RSS Joint General Secretary Manmohan Vaidya said in a statement that some divisive political forces had posted a morphed photo of former President Dr. Pranab Mukherjee standing in a prayer position with a folded hand during the recitation of sangha 'Prarthana'(Prayer) at the previous day's RSS function at Nagpur.
Manmohan Vaidya strongly condemned the nefarious idea of the frustrated forces which at first tried to dissuade Pranab from attending the function and later used Pranab's image to defame RSS.
Sharmistha Mukherjee, Pranab's daughter, and a Congress leader had opposed him visiting the RSS HQ, has now posted the photo in her twitter account and said,"See, this is exactly what I was fearing & warned my father about. Not even few hours have passed, but BJP/RSS dirty tricks dept is at work in full swing!".