And it has happened at 06:37 AM IST- the historic handshake between the US President Donald Trump and North Korean leader Kim Jong Un.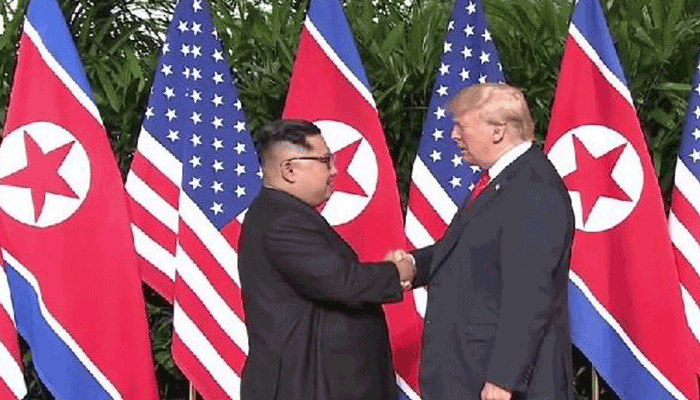 History is created as US President Donald Trump and North Korean leader Kim Jong-un met in Singapore on Tuesday. The landmark summit is being described as the mother of all summits. This is for the first time a sitting US president met a North Korean leader.
With a handshake in Singapore, US President Donald Trump and North Korea's leader Kim Jong Un marked the beginning of their first one-on-one meeting after months of negotiations over narrowing their differences on how to end a nuclear standoff.
The two men strode toward each other and shared a handshake beneath the white-washed walls of an upscale hotel in neutral Singapore, before sitting down for a half-day of meetings with ramifications for the world.
Meanwhile, the body language experts on BBC suggested that Kim Jong was nervous as he avoided eye contact with US President. By Trump's standards it was a relatively low-key handshake, with no jerky movements, though it lasted for about 12 seconds, The Guardian reported.
For both men, the summit, the first between leaders of North Korea and the United States, is likely to be a defining moment of their careers.
READ ALSO: (Video)The Trump-Kim Impersonators are Just as Good as real!
The United States wants North Korea to denuclearize in return for security guarantees. The extraordinary meet, which began with a handshake from 9:00 AM (06:37 IST), will continue for hours. The two men walked towards each other at Singapore's Capella Hotel and will attend meetings at the ultra-luxury hotel only.
For Trump, cutting a deal to end the North Korean nuclear threat with his approach to Kim, in defiance of the US security establishment's long-held ways of dealing with the North, would be a success unmatched by any predecessors.
The meeting would have been unthinkable last year when tensions spiralled in the region over North Korea's nuclear and missile programmes as it raced towards the goal of developing a nuclear-tipped missile capable of hitting the United States.
Trump vowed to prevent that from happening and threatened North Korea with "fire and fury like the world has never seen". He mocked Kim as "little rocket man" on a suicide mission.