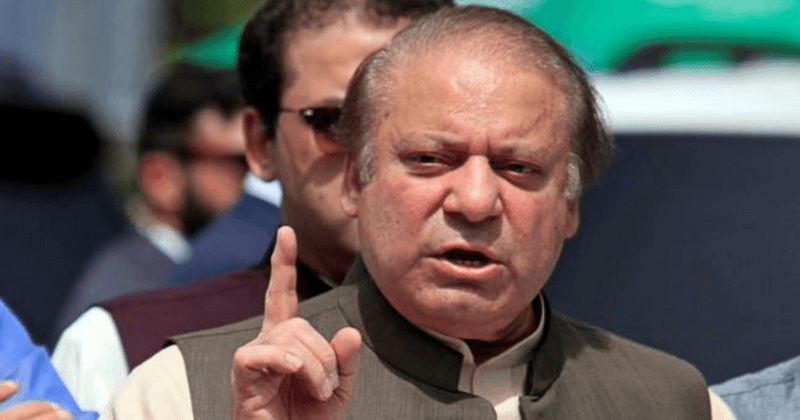 Pakistan's ousted prime minister Nawaz Sharif's on Monday accused the country chief justice of rushing through the hearings in the three corruption cases filed against him, terming it an "extremely unfortunate" example of "oppression and injustice".
The Supreme Court had disqualified Sharif, 68, last year, forcing the three-time prime minister to resign.
Sharif has dismissed as politically motivated the corruption charges linked to the Panama Papers case.
Sharif claimed that his fundamental rights were being violated as no lawyer would take up a case where he is not even allowed time to prepare and is asked to appear even on the weekends.
Sharif was referring to his lawyer Khawaja Harris who failed to represent him on Tuesday, arguing that he can neither work under pressure nor on the weekends as demanded by the Accountability Court.
"Does the chief justice (Mian Saqib Nisar) not know that justice rushed is justice crushed?" Sharif, 68, was quoted as saying by the Dawn newspaper.
"This last episode of the game that began with Panama [papers] is an extremely unfortunate example of oppression and injustice," he said, repeating his previous claims of injustices meted out to him in the case.
As the Accountability Court Judge Muhammad Bashir resumed proceedings in the Al-Azizia case, one of the three graft cases, against Sharif, Harris withdrew, prompting the judge to order the trial court to proceed on a daily basis and even conduct hearings on Saturdays.
The court asked Sharif if he would engage another lawyer or continue with Harris.
Sharif said he needed time to make a decision and the hearing was adjourned till Tuesday.
"I do not know whether my right to defence is more important or a decision being given before election.
Read More: Heavy rains damaged several shelters of one million Rohingya refugees: UN
Are the standards of law and justice important or a decision before elections? Are the fundamental rights of a Pakistani citizen important or a decision before elections?" Sharif later told reporters.
Harris has been Sharif's lawyer in all three cases filed against him and his family on September 8 following his disqualification as the premier on July 28.
Fawad Chaudhry of Pakistan Tehreek-e-Insaf said that Sharif's lawyer's statement was a ploy by Sharif to delay the conclusion in the cases.
The Accountability Court is hearing the corruption cases against Sharif, his daughter Maryam and son-in-law captain (retd) Muhammad Safdar.
The National Accountability Bureau (NAB) had filed three cases of corruption and money laundering against Sharif, his sons – Hassan and Hussain, daughter – Maryam, son-in-law – Safdar, and Finance Minister Ishaq Dar in the Accountability Court in Islamabad and Rawalpindi last year.