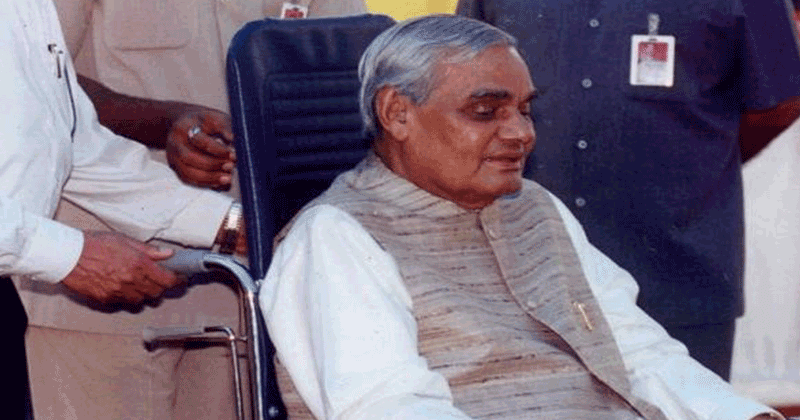 Yesterday the former Prime Minister Atal Bihari Vajpayee was admitted to the AIIMS hospital stating that it was a regular check-up.
But is it really?
Prime Minister Narendra Modi on Monday visited former Prime Minister AB Vajpayee, who has been ailing for long and was admitted at All India Institute of Medical Sciences (AIIMS) following complaints of lower respiratory tract infection and kidney issues earlier in the day, and was undergoing dialysis thereafter. Modi, who was in the hospital for nearly an hour, interacted with the former PM's family and also spoke to doctors about Vajpayee's health.
"He was admitted with complaints of lower respiratory tract infection and kidney issues. He is in the ICU and undergoing dialysis," a source at AIIMS said.
READ ALSO: Former prime minister Atal Bihari Vajpayee's condition is stable: AIIMS
Prior to Modi, Congress chief Rahul Gandhi and BJP chief Amit Shah paid a visit to the former PM. Veteran BJP leaders LK Advani and Murli Manohar Joshi have also arrived at AIIMS to visit Vajpayee.
The 93-year-old leader has been admitted on doctors' advice and will be under the supervision of AIIMS Director Randeep Guleria, the BJP said in a statement. The BJP stalwart, who served as PM between 1998-2004, slowly withdrew from public life as his health deteriorated and has been confined to his residence for many years.
Meanwhile, Union Minister Dr Harsh Vardhan stated that the health condition of former PM Vajpayee is now fine and that there is nothing to worry about. 
Union Minister Vijay Goel said that he hopes Vajpayee recovers soon and is discharged by 12 June.