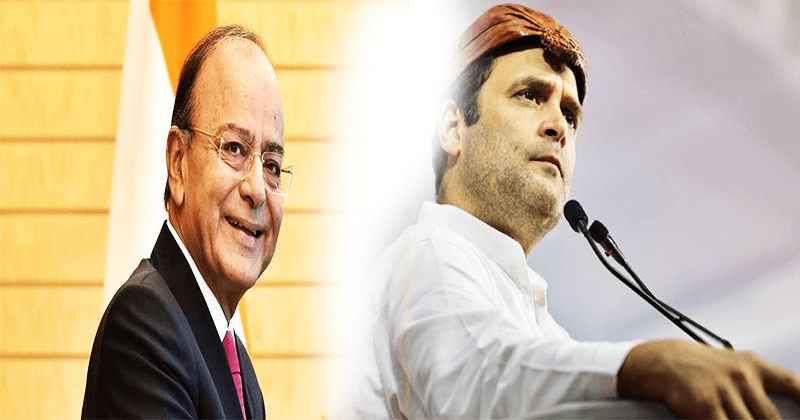 When the recent Rahulvani about Coca Cola's past has not left the arena of people's laughter, yet another jibe at Rahul Gandhi has been made by Arun Jaitley.
Responding to Rahul Gandhi and his group's anti-Modi rhetorics, Union Minister Arun Jaitley questioned Rahul Gandhi's wisdom saying that it had to be acquired rather than inherited. Jaitley laughed at Rahul and his party Congress for becoming "ideologyless" due to their prime obsession with a 'person called Narendra Modi', through his Facebook post.
Rahul Gandhi had been a vociferous opponent of the Mudra Yojana which provided loans to young entrepreneurs and also attacked the BJP government for waiving loans of Rs 2.5 lakh crore by big corporates. Jaitley fought back Rahul's accusations observing that the UPA Govt. during 2008-14 indiscriminately lent money through banks to 15 big loan defaulters and he said that Rahul Gandhi prefers the "Gobbelian traditions to say the exact opposite".
See also:Coca-Cola was started by a lemonade seller and McDonald's by a dhaba wala, says Rahul Gandhi
Jaitley made fun of Rahul by stating that his ignorance of basic procedure of bank functioning should be a thing of serious concern to his party and also the country. In dynastic parties political positions are heritable. Unfortunately, wisdom is not heritable. It has to be acquired through learning," he said in a post titled 'Is Congress Becoming Ideologyless? Is Anti-Modism it's only ideology?'
Rahul Gandhi had invoked the examples of successful American entrepreneurs to attack PM Narendra Modi's policies and described the founder of Coca-Cola as a 'shikanji (lemonade) seller' and that of McDonald's a 'dhaba wala'.To this bizarre statement of RaGa, Jaitley said,"Though factually what he stated was incorrect, the larger point is that he saw virtues in these professions which can act as a launch pad for many start-ups. The great-grandson of the man who authored 'The Discovery of India' could with his customary inaccuracies one day give to this country his monumental work on 'The Rediscovery of Coca-Cola'".
Jaitley identified the common thread in Rahul's speeches as "Ignorance with anti-Modism'.He said that the dynastic political parties were family and personality dominated and the ideology took a back seat. Union Minister further took a jibe at the newly invented tactics of the Congress party, that is, coalition politics when he pointed at the relegation of "ideologyless" Congress as "a tailender to regional parties".All that they are obsessed with was in a person called Narendra Modi, said he.
The minister also questioned the Congress party's 'sudden love for the Other Backward Classes' saying former prime minister Rajiv Gandhi had opposed the Mandal Commission and the Congress Party recently opposed the grant of constitutional status to the National Commission for Backward Classes.
Jaitley called P.Chidambaram as the 'cleverer than rest of his colleagues', mentioning about Chidambaram's comment that frying pakodas are not job creation. However, the 'cleverness' was in the fact that he Chidambaram had tried to neutralize the success story of the Mudra Yojana where 12.90 crores worth of loans were given for self-employment to various weaker sections.
Jaitley said the total of these loans has touched Rs 6 lakh crores and created work for millions of people.