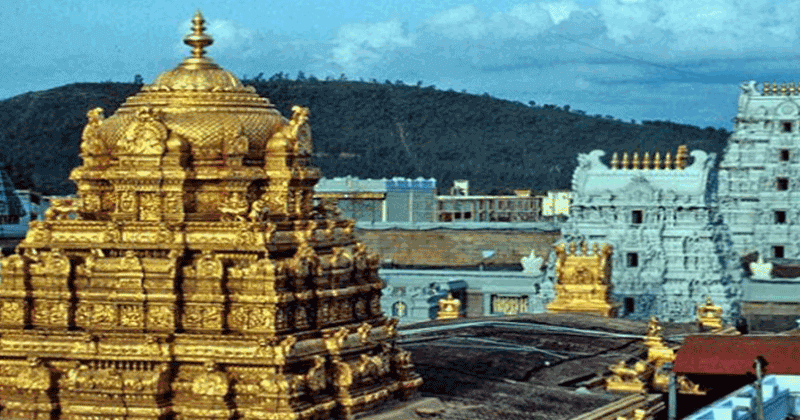 Venkateswara Temple is a landmark Vaishnavite temple situated in the hill town of Tirumala at Tirupati in Chittoor district of Andhra Pradesh, India.
The controversy over the alleged loss of precious jewels at the famous Tirumala temple in Andhra Pradesh has taken a twist, with the temple's management Board Tirumala Tirupati Devasthanam (TTD) issuing a legal notice for defamation.
The TTD issued notices to the former Chief Priest A.V. Ramanna Deekshitulu and YSR Congress party MP Vijay Sai Reddy.
Deekshitulu was in the news for the past month after he alleged temple authorities had illegally dug up the floor of the kitchen, to find hidden treasure, and that some of the valuable jewels offered by devotees to the temple were missing.
Vijay Sai Redd, on the other hand,d had repeated the allegations and also alleged that some of these jewels were hidden at Chief Minister N. Chandrababu Naidu's residence in Hyderabad. Expressing a lack of confidence in Andhra Pradesh police he had demanded the jewels could be found only if Telangana police or the CBI carry out the raids immediately.
READ ALSO: VHP members vandalise Taj Mahal's entrance gate, say it blocks path to Shiva temple-Watch Video
Reacting strongly to the allegations, the TTD Board issued legal notices to the two individuals demanding to know why legal action should not be initiated against them for allegedly defaming the temple and its officials.
Earlier the Dahrmakarta Mandali of the temple had also passed a resolution condemning both the persons for making allegations and tarnishing the image of the temple. They too had demanded stern action against them.
Meanwhile, in a related development, the TTD case has also reached the portals of the Supreme Court as another former chief priest of the temple Venugopala Deekshitulu moved a petition demanding that he should be restored as chief priest.
He alleged that the TTD Board had sacked him illegally.
Earlier, the BJP MP Subramanian Swamy had said he would move the Supreme Court to seek a court-supervised CBI probe into the management of the temple jewels.
Andhra Pradesh Chief Minister N. Chandrababu Naidu on the other hand said the matter was all part of a deep conspiracy by the BJP to enable the Centre to take over the temple from the state.