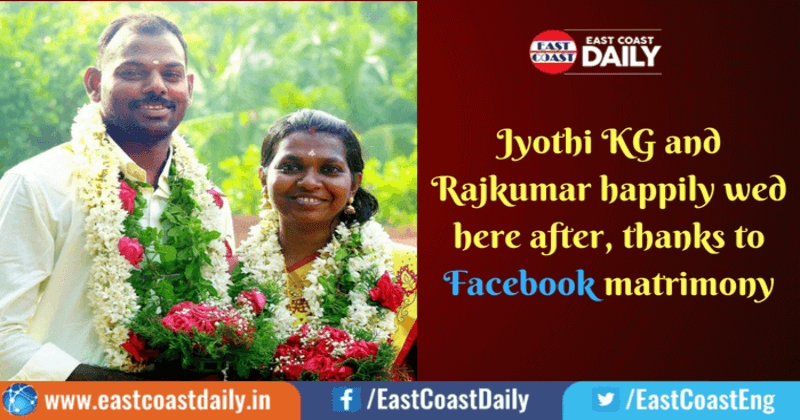 Jyoti from Malappuram got happily wedded to Rajkumar from Tamilnadu, a relation which was made possible through her matrimonial post in the Facebook. Jyoti has completed her fashion designing course and her husband Rajkumar is an officer in the Tamil Nadu police and their marriage happened today at 10 AM in the pious sanctum sanctorium of Kalkipuri Shiva Temple. It was on last April that Jyothi put a post in Facebook inviting suitable alliances putting no bar on caste/religion.
She had posted that she was unmarried and her parents had been dead and that if any of her friends knew anyone who would be interested in an alliance with her, could contact her. In the post, she put that there were no Caste, religious demands and that she had completed Fashion Designing. Hundreds of people called her and from those calls, she selected a native of Bargoor in Tamil Nadu, Rajkumar, an officer in the Tamil Nadu Police.
The idea of a facebook matrimony she got from Ranjish Manjeri who himself had sought an alliance through Facebook and married. Ranjish is a professional photographer and he married Sariga who is a teacher in a marriage which is first of its kind happened through FB matrimony. Now with Jyoti's marriage, she has become the first woman to get married through an FB matrimony instance initiated by herself. Ranjish's marriage was on April 18 and he was the one who gave all the necessary advice for Jyoti's marriage and in fact, he captured the auspicious moments in his camera.
See also:30 years since marriage, I'vent converted my wife neither she tried to convert me:Ali Akbar
Jyoti has put a Facebook post thanking all the media and friends and informing about her marriage. It was under a very difficult circumstance of many marriage proposals getting ruptured that she resorted to facebook matrimony. Jyoti who has completed her fashion designing course proves that Facebook Matrimony is an idea to be experimented with by those who are faced by umpteen problematic proposals. Jyoti's and Renjish's happy married life may be an inspiration to many youngsters who due to many tragic turns of fate are in a never-ending wait for their marriage.