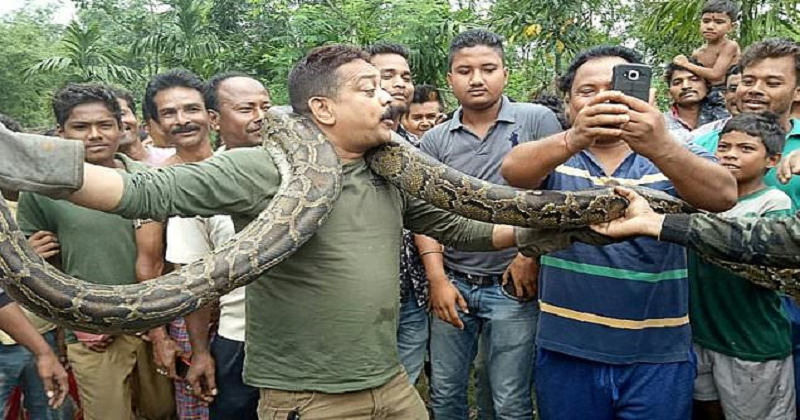 A West Bengal officer narrowly escaped the death after he attempts to take a selfie with a 30-foot-long snake tightened its grip around the neck of the ranger. The locals had hired the forest ranger to capture the deadly and venomous python which had earlier killed a goat. After the Python caught in the trap, the Range officer rolled the python around his neck as a sign of victory and also took selfies at the moment.
But things not gone according to the plan, python tightens the knot around his neck and started to strangle but escaped by chance. Due to his defiance of the procedure, which involves the forest officials collaring the snake to capture him, transferring him in a sack and carrying it away in order to release it into the forest later, the incident could have proven deadly for him as the snake slipped out of the hands of another assistant who was holding it.
#WATCH Narrow escape for Sanjoy Dutta, Range Officer of Baikunthapur Forest in Jalpaiguri after a python he rescued from a village almost strangled him to death while he was posing for selfies with locals. #WestBengal pic.twitter.com/KroJHOCOkk

— ANI (@ANI) June 18, 2018
Coming out of its initial daze, the python began to wriggle, twist and turn while he was still rested on the officer's neck. As the ranger sensed trouble, he started walking away from the crowds. Much to the absolute horror of the onlookers, the snake went out of control before the officer ordered his assistant to hold the tail in a panicky voice.
Read More: New Beer Production Facility to Come up in Kannur: Is this How Kerala Govt Follows its New Liquor Policy of Promoting Voluntary Abstinence of Alcohol?
The forest officer can be seen running in the video trying to catch hold of the python as it takes him in a steel grip. As per a news report by ANI, the incident occurred in Baikunthapur Forest at a village in Jalpaiguri, which is 600 kilometres from the state capital, Kolkata. The snake will be released into the Baikanthapur forest near the Sahib Bari village. The West Bengal forest minister is said to have ordered an inquiry into the incident.