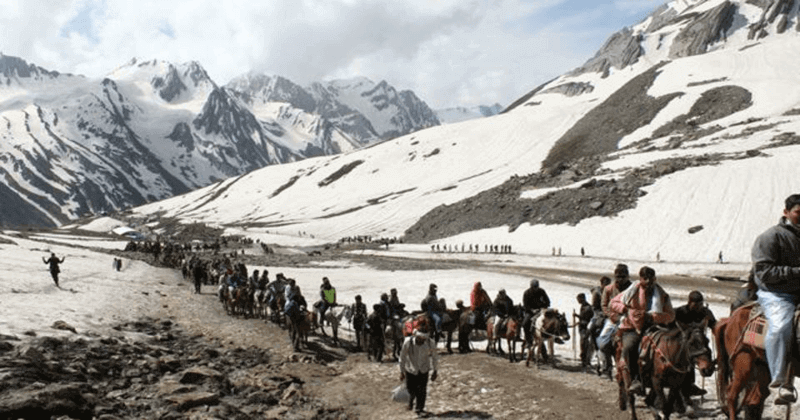 Amidst the security threat posed by Pak funded terror organisations, the devotees of Lord Shiva un-flinched in their faith and in full support given by the Indian Forces undertakes this year's holy trek to Amarnath on Wednesday. The first batch of 3000 pilgrims left the Bhagwati Nagar base camp with all the tight security provided by the CRPF personnel. To give escort to the batch, a special motorbike squad equipped with cameras and various life-saving equipment was also there.
The batch included 520 women and 21 children and they had left the camp raising praises for Lord Shiva by chanting "Bam Bam Bhole" and with the patriotic call of "Bharat Matha Ki Jay".As per the schedule, they will reach the Baltal and Pahalgam base camps in Kashmir later in the day.
See also:We won't attack, You are our guests : Hizbul Mujahideen message to Amarnath pilgrims
A devout pilgrim, 65-year-old Susheela hailing from Uttar Pradesh said that they came for 'Barfani Baba'(naturally formed ice Shivlingam) and his call to visit shooed away all the fears including that of terror attacks. She led a group of 21 people including her grandchildren.
Another pilgrim Arun Sharma from Meerut who was the part of a 21 member group expressed his full faith in the security forces of India.
There are about 120 Sadhus who are also part of this Yatra.
Raman Mani from Nashik's Trimbakeshwar Shiva Temple has been coming regularly for the past 27 years and this year he plans to seek from the Lord peace and prosperity for the mankind.
A V Chauhan, Inspector General(IG) of CRPF Jammu, said that there was no specific input about terrorist threats. He reiterated the security personnel's commitment towards ensuring the safety of the pilgrims."This time, we have used special gadgets and new and better technology to further strengthen the security," said Chauhan.
More manpower has been deployed this year by the government to ensure a safe Yatra to the pilgrims. To prevent the vehicles from getting strayed away from the convoy, Radio Frequency(RF) identification chips have been introduced this year which will help to track all Amarnath – bound vehicles. Last year, a terrorist attack on a lone bus had killed nine pilgrims.
The first batch will take an arduous trek through the mountains to reach the cave shrine situated at a height of 3880 metres. Inside the caves lie the naturally formed ice Shivlingam to whom the devotees will unburden all the woes and wish for world peace through their prayers. The pilgrimage is for 60 days and will conclude on August 26, which coincides with the festival of 'Raksha Bandhan'.