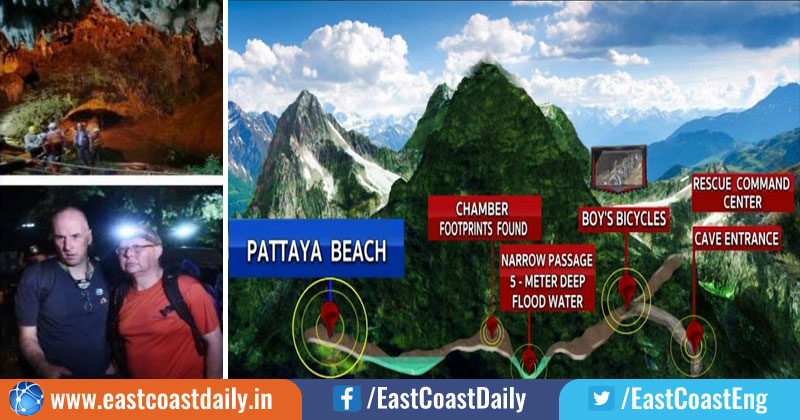 A U.S. military team and British cave diving experts joined the Thai navy seals to help search for the 12 boys and their soccer coach who entered the Tham Luang Nang Non-caves complex on Saturday.
Thailand's military commander in the area said the three British divers – reportedly from the British Cave Rescue Council – who landed in the country on Wednesday went straight from the plane into the cave to assess the situation.
Thirty members of the United States Pacific Command (USPACOM) have also joined in the search, according to Thailand's Deputy Prime Minister Prawit Wongsuwan.
Heavy rain and flooding inside the cave have hampered the search effort, which was halted on Thursday by rising water levels which filled underground passages. The flood water rising at a rate of six inches per hour have caused setbacks for rescuers. Floodwater was said to have risen to the ceiling of one of the chambers and almost reached the cave's entrance.
Teams have been focusing on a seven-kilometer-long route which it's believed the boys and the coach took. Belongings including bikes, shoes, and backpackers were found near the entrance. The boys are from a local football team nicknamed the "Wild Boars". They entered the cave after training on Saturday.
Close to the border with Myanmar, the long network of caves is prone to flooding during the monsoon season between June and October. It extends for several kilometers and has wide cavities and narrow passageways.
Also Read: Whale dies in southern Thai waters after swallowed over 80 plastic bags
The authorities say they're optimistic the boys are still alive, noting that tourists trapped in the cave by past floods have been rescued after waters receded.
Families and supporters of the missing boys, who gathered outside the cave entrance this week, also continued their vigil Thursday, holding prayer sessions outside the cave entrance.
Crews continued to search for any shafts from the surface of the mountain that could offer another way into the blocked portions of the miles-long cave below.
U.S. Indo-Pacific Command in Hawaii confirmed a team of about 30 people had been deployed to help the more than 600 local crew in the search.
"So far today, we have been working on just kind of syncing up with our Thai counterparts because really they're the true people that have been working on the ground here and we just want to ensure we are providing the best assistance to them during this process," U.S. Air Force Captain Jessica Tait said.