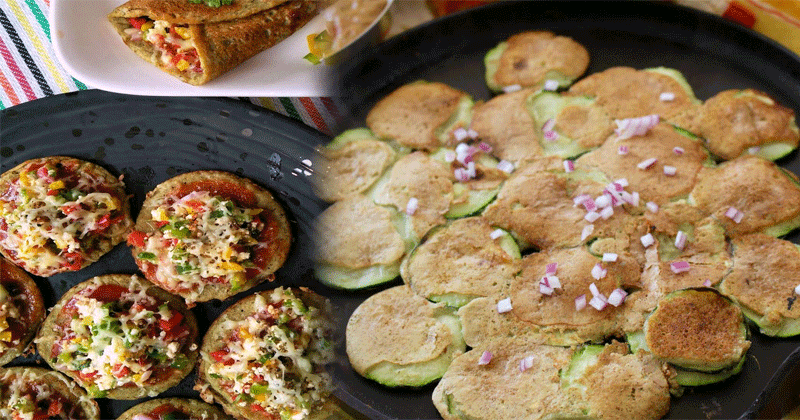 Andhra Cheese Vegetables Pesarattu Recipe is a wonderful twist to the regular pesarattu breakfast with yummy shredded mozzarella cheese but also healthy with a good load of veggies topped on it, along with a bit of paneer and oats.
Andhra Cheese Vegetables Pesarattu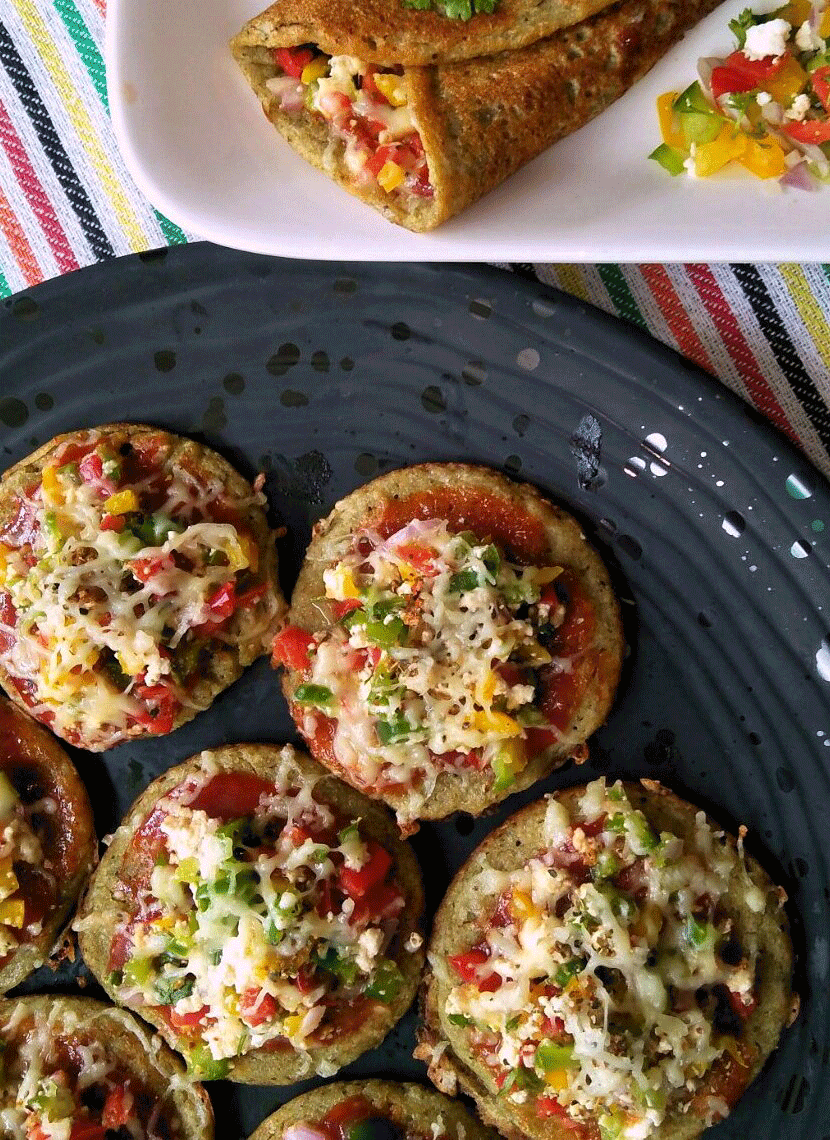 Prep in: 30 minutes
Cooks in: 25 minutes
Total in: 55 minutes
Makes: 4-5 servings
Ingredients
For Pesarattu batter:
1/2 cup Green Moong Dal (Whole), soaked overnight
1/4 cup Broken Raw Rice, soaked overnight
1/4 cup Instant Oats (Oatmeal)
5 Methi Seeds (Fenugreek Seeds), soaked overnight
2 Green Chillies
1 inch Ginger
1/4 cup Coriander (Dhania) Leaves
Salt, to taste
Ghee, to make the Pesarattu
For Topping:
1/2 Yellow Bell Pepper (Capsicum), sliced
1/2 Red Bell pepper (Capsicum), sliced
1/2 Green Bell Pepper (Capsicum), sliced
1 Onion, sliced
100 grams Paneer (Homemade Cottage Cheese)
1/2 cup Tomato Ketchup, or Pizza sauce
1/4 cup Red Chilli sauce (Sichuan Sauce), (adjust to taste)
2 tablespoons Coriander Leaves, finely chopped
Mixed Herbs (Dried)
Salt, to taste
Mozzarella cheese, or cheddar, grated, to taste
READ ALSO: Hit your French Toast with the right kind of spices-Masala French Toast
How to make
To begin making Andhra Cheese Vegetables Pesarattu Recipe, prep all the ingredients and prepare pesarattu first.
For the pesarattu, the first thing that needs to be done is soaking the green moong beans and raw rice separately in enough water for about 6-7 hours or overnight. The fenugreek seeds should be soaked with the raw rice.
While grinding, wash the Moong beans and rice thoroughly and drain.
In a mixer grinder, dry grind the oats to a powder and keep it separately until required.
Then, grind together the moong, green chilies, and ginger using sufficient water to get a fine paste. Grind the rice grains and fenugreek seeds in the same manner.
Mix together the oats powder and the two batters adding salt to taste. Adjust consistency of batter like that of dosa batter.
Add chopped fresh coriander to this batter.
To make the topping, Start with finely chopping the vegetables. Crush the paneer coarsely with fingers. Grate cheese as per your taste and preference.
In a bowl, mix together the chopped vegetables, paneer, coriander, salt and mixed herbs.
In another bowl, mix together both the sauces, tomato ketchup and red chili sauces.
Heat a pancake pan and grease with homemade ghee.
Spread the batter over each hollow, smear little ghee on top and cover and cook. (Another option is to use a normal griddle and spread batter in a way to get small pancakes.)
When one side is done, flip over and cook on the other side until crisp.
Remove the batch of pancakes on a plate with the first cooked side at the bottom.
Apply 1 tablespoon of sauce on each of them and spread about 2 heaped teaspoons of mixed vegetable mixture on each.
Grate cheese on top and transfer again to the pan to cook on low heat till the cheese melts.
To prepare Cheese Vegetables Pesarattu Wraps
For the wrap (better option for tiffins), spread the pesarattu batter on a hot greased griddle, as you would do a dosa.
When cooked on one side, flip and cook on the other side till done.
Now flip again, apply the sauce on the entire dosa and spread the vegetable topping mixture in the center.
Grate some cheese on top. Immediately roll dosa from both sides covering the filling to make a wrap.
For both the pizza and the wrap, the pesarattu should be made a little thick and not too thin.
Serve Andhra Cheese Vegetables Pesarattu Recipe with Allam Pachadi for breakfast.