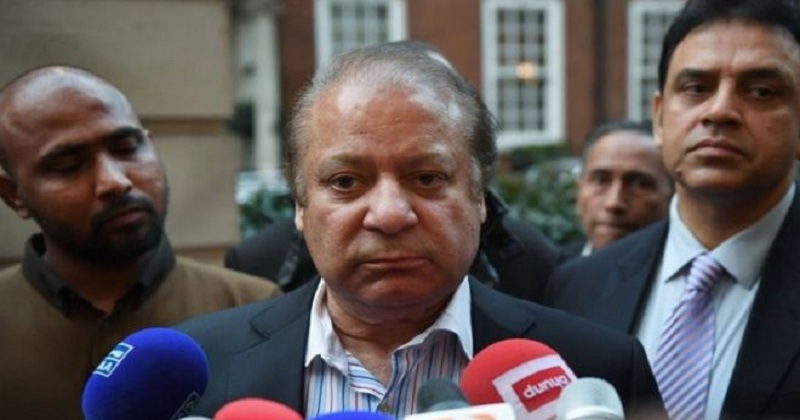 Former Pakistan prime minister Nawaz Sharif, daughter Maryam and her husband have decided to appeal against the 6 July verdict by an anti-corruption court. They were convicted and jailed for owning properties disproportionate to their sources of income.
Nawaz Sharif's legal team was allowed to meet him briefly a day after he was shifted to Adiala jail on the outskirts of Rawalpindi.
Sources said the legal team was allowed to meet for only five minutes. The Saad Hashmi-led legal team went to Sharif to get the power of attorney signed so that an appeal could be filed in the Islamabad High Court, they added.
No bed, no AC has been provided to Sharif in Adiala, the team said, adding that a senior police official was present throughout the meeting. Sharif was not even given a newspaper to read, his bed was a mattress on the floor and the washroom at his disposal was in despicable conditions.
Also Read : "Had I not been in a jail, I would have been fighting" Maryam's emotional message
The appeal by Maryam Nawaz and her husband Safdar Awan which will be filed on 16 July was drafted on Saturday. Maryam's legal team was still in Adiala jail to get the power of attorney but was unable to file the appeal before the court hours ended. Court hours last till 1 pm during summer vacations.
The appeal — that highlights the legal flaws in the Avenfield judgement — asks for the accountability court's verdict to be declared null and void. It further pleads that the sentence of Safdar Awan be suspended till a decision on the appeal is reached.
Sharif and his political heir Maryam were arrested at the Lahore airport late on Friday as they returned to the country in an attempt to rally for their beleaguered party days before the 25 July polls.