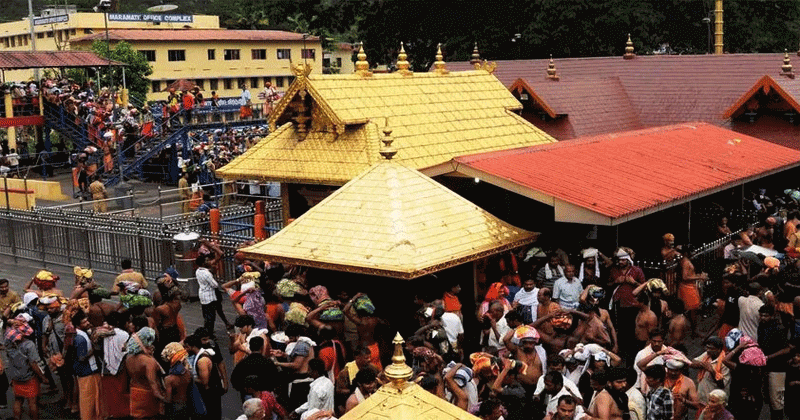 The Sabarimala temple has banned the entry of women into the temple for centuries. This became an issue when the women activists had brought forth the issue.
Banning women aged between 10 and 50 from entering the Sabarimala temple in Kerala runs afoul of their constitutional rights, the Supreme Court observed on Wednesday. Hearing a batch of petitions challenging the age-old prohibition on women in the menstruating age group in the famed hill shrine, the apex court said women's right to worship is a constitutional one and it does not depend on laws.
"On what basis you (temple authorities) deny the entry? …Once you open it for public, anybody can go. If there is a temple, then it is a public place and everyone is allowed to go there. If men can go there, women can also go," said CJI Dipak Misra.
Advocate Ravi Prakash Gupta appearing for petitioner Indian Young Lawyers Association argued, "Such discrimination is totally anti-Hindu." The hearing will continue on Thursday.
READ ALSO: Sabarimala Case : Woman's right to pray is equal to that of a man, says Supreme Court
Every woman is also the creation of God: SC
Following attempts by some women's groups to enter the temple disregarding the restrictions early this year, the authorities made age proof mandatory for women to enter the temple. Justice D Y Chandrachud said, "Every woman is also the creation of God and why should there be discrimination against them in employment or worship? All persons are equally entitled to freedom of conscience and the right freely to profess, practice and propagate religion. This means your right as a woman to pray is not dependent on a legislation. It is your constitutional right."
CJI also opposed the stand of the Kerala government that ceremonial rules pertaining to temples and method of worship is set by the temple and are protected under the right to worship saying, "A temple cannot claim denominational rights."
During the hearing, Kerala govt representative senior advocate Jaydeep Gupta said the state favors women's entry to the temple. On this CJI said, "You are changing your stand again. This is the fourth time." The bench was referring to the contrary affidavits of Kerala which had in 2015 had supported entry of women but made a U-turn in 2017
The Kerala government counsel said it would go by its first affidavit and support the cause of women. "You are changing with the changing times," the bench remarked. Senior advocate Indira Jaising, appearing for one of the intervenors, assailed the practice and said the ban on women entry of certain age groups was violative of various fundamental rights including Article 17 which deals with untouchability.