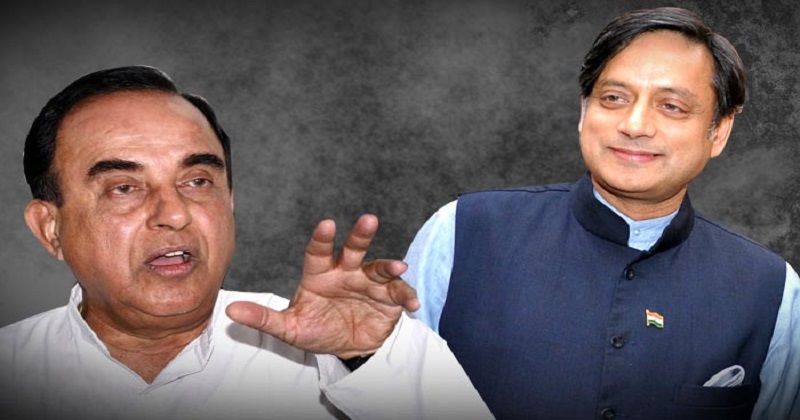 Shashi Tharoor had been at the center of some controversies recently and it was no different yesterday when his comments about why Modi is not wearing a Muslim skullcap and why is he is not seen in green dress caused quite an uproar. In the same speech, the MP from Thiruvananthapuram had also commented on Modi's traditional North Eastern headgear as outlandish and that did evoke some response as well. Many leaders came forward demanding an apology from Shashi Tharoor.
READ ALSO: Shashi Tharoor Mocks Modi's Traditional Naga Headdress, BJP Demands an Apology For Insulting People of North East
BJP Rajya Sabha MP Subramanian Swamy on Tuesday hit back at Congress leader Shashi Tharoor for making fun of Prime Minister Narendra Modi for wearing "all sorts of outlandish headgear but refusing to wear a skull-cap."
Slamming Tharoor, Swamy said that he is a person who has not come out of cocktail parties. "Tharoor is a person who has not come out of cocktail parties.. became a minister.. (then) an MP… even then he remained unchanged," Swamy said.
READ ALSO:Shashi Tharoor Wants to Know Why P.M Modi Refuses to Wear a Muslim Cap
Swamy further slammed Tharoor for speaking like 'English people'. "It's okay for him if he goes to a cocktail party and Lutyens for dinner, where the whole attire, language, and culture is that of the British," he said. "But to say that the headgear is weird….what's weird about it?"
"Your suit boot is weird.. you look like a waiter in it…Like a butler in a restaurant!"
So What you think about Swamy's statement? It is possible that Tharoor might soon come up with a reply for all the allegations. Lets wait