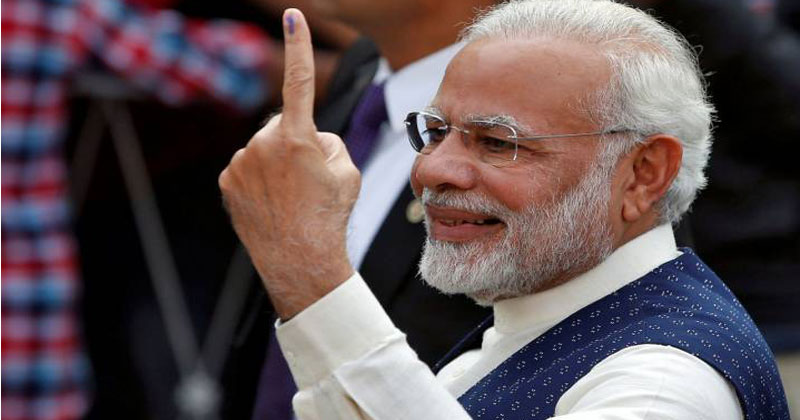 The opposition had voiced their opinions on the lack of jobs and the rise in unemployment among the youth in the Indian society, PM Modi lashes out at the allegations.
Prime Minister Narendra Modi on Saturday dispelled the allegations of the Opposition about lack of job growth, saying India is among the major economies of the world.
In an exclusive interview, Prime Minister Modi said, "When the economy is growing at a faster pace, in fact, fastest among the major economies, how will the jobs market not expand?"
The Prime Minister, citing his speech in the Lok Sabha during the No Confidence Motion, said, "When investment into and the pace of execution of infrastructure projects like making roads, laying down rail lines, setting up power generation including solar parks and transmission lines is at all-time high, how come the jobs will not be created."
He further questioned, "If there is significant growth in sales of commercial vehicles and passenger vehicles, does it not mean that jobs are being created?"
READ ALSO:  Mani Sanker Aiyar again to tarnish the image of PM Modi with controversial statements
Prime Minister Modi, had made the creation of jobs as one of his poll issues before coming to power in 2014, a claim that the Opposition parties often question.
In his interview, Prime Minister Modi said that the Foreign Direct Investment (FDI) is at an all-time high, having a domino's effect on the creation of jobs in the country.
"When FDI inflows are at an all-time high, will it not translate into manufacturing and job creation?" The Prime Minister questioned.
Supporting his argument, the Prime Minister said, "From just 2 mobile manufacturing units in 2014 we have grown to 120. When such development in electronic manufacturing is taking place, will it not create jobs?"
During the last four years of his tenure, Prime Minister Modi implemented several flagship programmes like Make in India, Start-up India, Skill India Campaign. "Today India has emerged as one of the top hubs of start-ups. Are they not creating jobs? App-based aggregators are flourishing in India across food, logistics, e-commerce, mobility solutions and many more such sectors. Are they not creating jobs?," said Prime Minister Modi.
The Prime Minister also cited the growing tourist footfall to substantiate his claim. He said, "We all know the potential tourism has in creating jobs. Foreign tourist arrivals in India grew by 14% last year. Domestic tourism has also grown. Will this not result in job creation?"
READ ALSO:  Heavy Rain in Kerala: P.M Modi Calls Pinarayi Vijayan, Assures All Help to the State
Prime Minister Narendra Modi, also spoke about the rural welfare schemes like MUDRA, which provides refinance to micro businesses, and UDAN, under which, air connectivity is provided to unserved and underserved airports at a subsidized fare.
He said, "Today India is seeing a historic boom in the aviation sector. Last year, over 10 crore people took a flight. Through UDAN scheme, we have put many places, particularly Tier-II and III cities on the aviation map. Will this not create jobs and opportunities across the board?"
"More than 13 crore MUDRA loans have been given to our hardworking entrepreneurs. I have been told that over 3.5 crores of these loans have been given to first-time entrepreneurs. Does every loan not create additional employment opportunities?" he added.
The Prime Minister further added that "Employment generation is also evident from 45 lakh new Subscribers in the Employee Provident Fund and 5.68 lakh people joining the New Pension Scheme in the last nine months. All this has led to the creation of more than one crore jobs only in the last year. Thus, the campaign that jobs have not been created must come to a halt now. People are not going to buy it anymore."