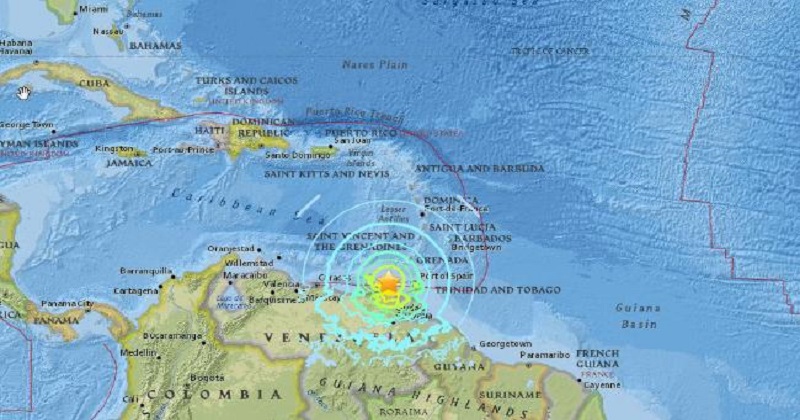 A major earthquake of magnitude 7.3 struck Venezuela's eastern coast, home to largely poor fishing communities, on Tuesday afternoon, shaking buildings as far away as Colombian capital Bogota and knocking power out in parts of Trinidad.
But the quake's depth – 76.5 miles (123 km) below the surface – appeared to have mitigated the damage.
Venezuelan officials said there were no immediate reports of injuries and two sources at state oil company PDVSA told Reuters the OPEC member's refineries and oil fields were operating normally. PDVSA did not immediately comment.
Venezuela is not in a good shape to deal with a natural disaster. It is already wrestling with a crippling economic crisis with medicine running short, hospitals barely able to function and some severe shortages of basics such as chicken and milk.
The tremor – one of the country's strongest ever – hit at 5.31 p.m. (2131 GMT). Along with Venezuela's picturesque palm tree-dotted northern coast, residents said the long quake was terrifying and frightened people into dashing into the streets.
"I had gotten into bed to watch the news on TV and my bed started to move as if it was made of water," said Elia Sanchez, a doctor in Cumana, the capital of the eastern state of Sucre that was the closest to the coastal epicentre. "We had to go down nine floors, it felt like it would never end."
Rosemary Rodriguez, also in Cumana, said she could not see any significant damage but that people were still fearful.
Read More: Reliance Foundation Announces a Huge Contribution to CM's Distress Relief Fund
"There are still people in the street. There are people packing bags in case there are aftershocks," said Rodriguez.
Damage in Caracas was limited, but the quake did tilt the top five floors of an abandoned 45-story skyscraper known as the 'Tower of David', Interior Minister Nestor Reverol said.
The tower, originally intended to be a bank centre but abandoned since 1994 and later occupied by squatters for years, dominates Caracas' skyline. It features in the U.S. television spy drama "Homeland". Pictures after the quake showed the building's top floors, which are unfinished, leaning sideways.
Out east, the governor of Sucre called for calm.
"Do not fall victim to psychological terror, messages about a tsunami and all that," said governor Edwin Rojas, who belongs to President Nicolas Maduro's Socialist Party.
The Information Ministry did not respond to a request for comment for additional information.